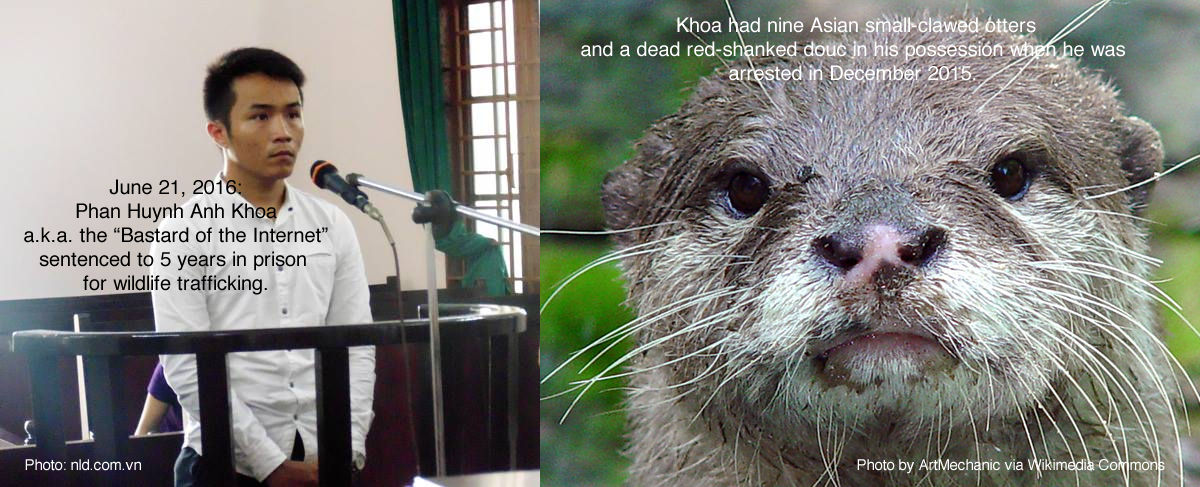 Justice for wildlife: Notorious Vietnamese wildlife trafficker Phan Huynh Anh Khoa, a.k.a. the "Bastard of the Internet", was sentenced to five years imprisonment by the Tan Binh People's Court in Ho Chi Minh City.
Khoa's sentence is the result of a two-year investigation by Education for Nature-Vietnam (ENV). He was finally caught red-handed with a dead red-shanked douc (Pygathrix nemaeus) and nine Asian small-clawed otters (Aonyx cinereus) during a sting operation organized by ENV and the Environment Police of Ho Chi Minh City in December 2015. In addition to jail time, Khoa was fined $2,230.
Khoa was dubbed the "Bastard of the Internet" by ENV due to his flagrant advertising of a wide assortment of endangered and protected species. He trafficked wildlife on his Facebook page, websites, and trading forums. Khoa sold douc langurs, leopard cats, pangolins, marine turtles, otters, and lorises. His list of live animals for sale read like the inventory of a small zoo, and included both native and exotic wildlife. Khoa mocked Vietnamese authorities and ENV on his Facebook page, promising that he would never be caught.
Many thanks to the Tan Binh People's Court in Ho Chi Minh City and our partners Education for Nature-Vietnam for bringing this disgraceful criminal to justice.
---
Help fight against wildlife trafficking: Support our work to advocate for the protection of endangered species at the upcoming CITES CoP17 in South Africa.
Comments
comments