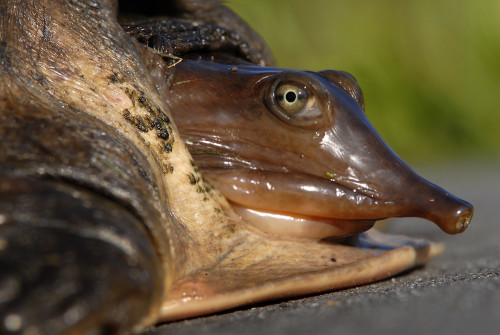 The U.S. Fish and Wildlife Service has announced that four freshwater turtle species – the common snapping turtle, Florida softshell turtle, smooth softshell turtle, and spiny softshell turtle – will be listed in CITES Appendix III.
Unlike CITES Appendix I and II listings, the inclusion of a species on Appendix III is not subject to a vote by the Parties to CITES. The listings will allow for monitoring of international trade in these four turtle species in order to determine whether exports are occurring legally under State and Federal law, and to determine whether further CITES measures are necessary.
"Existing laws have not been completely successful in preventing the unauthorized collection and trade of these four native U.S. freshwater turtle species."
The Appendix III listing includes live and dead specimens, and all "readily recognizable" parts, products and derivatives.
Common snapping turtle (Chelydra serpentina); two subspecies (C.s. osceola and C.s. serpentina)
Florida softshell turtle (Apalone ferox)
Smooth softshell turtle (Apalone mutica); two subspecies (A.m. mutica and A.m. calvata)
Spiny softshell turtle (Apalone spinifera); six subspecies (A.s. spinifera, A.s. aspera, A.s. emoryi, A.s. guadalupensis, A.s. hartwegi, and A.s. pallida). An additional subspecies (A.s. atra) which occurs in Mexico is already listed in CITES Appendix I and under the U.S. Endangered Species Act (ESA).
This decision by the United States is the latest in a series of strategic actions which utilize provisions of the Convention to mitigate threats to wild softshell turtle populations.
In 2013, at CITES CoP16, eight species of Asian softshell turtles (Aspideretes leithii, Dogania subplana, Nilssonia formosa, Palea steindachneri, Pelodiscus axenaria, P. maackii, P. parviformis and Rafetus swinhoe) were transferred to Appendix II and two species were transferred from Appendix II to Appendix I (Chitra chitra and C. vandijkii).
"Given the trade patterns, history, and biology of turtles, the United States believes a piecemeal approach to listing turtles, a few species at a time, is not an effective strategy. A family-level approach is precautionary and aims to protect presently exploited animals as well as animals that may become exploited as trade shifts from depleted or regulated species to those that are more abundant and unregulated."
Following the increased regulatory and permitting requirements of the Appendix II listing for Asian softshell turtles, traders turned their attention to the African species. Fortunately, this was anticipated: African range States have submitted a proposal to transfer all six of the continent's softshell turtle species to CITES Appendix II. The African turtle proposal will be voted on by the Parties to CITES at the CoP17 in September of this year.
---
Help fight against wildlife trafficking: Support our work to advocate for the protection of endangered species at the upcoming CITES CoP17 in South Africa.
Comments
comments