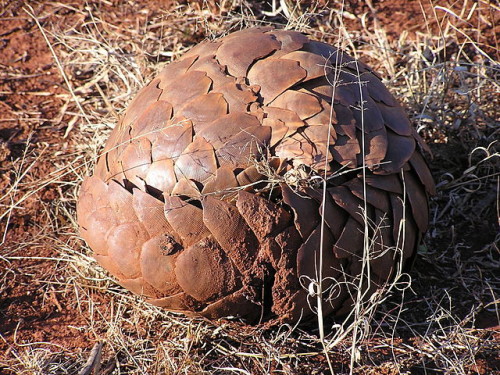 Wild pangolins are under siege in the West African country of Togo, where lax local laws – and the CITES Appendix II listing – have made it convenient for bushmeat traders, wildlife dealers, and exotic animal collectors to do business together.
At least 614 live pangolins have been approved for export by Togo since 2011 – including 36 received by the United States – according to the CITES Trade Database and data provided by the U.S. Fish and Wildlife Service.
Togo is home to three of the four African pangolin species: white-bellied (Manis tricuspis), black-bellied (Manis tetradactyla), and giant pangolins (Manis gigantea). A permit to capture, hunt or kill a pangolin in Togo can be obtained for $11.00.
Togo's live pangolin export permits accounted for 97.6 percent of all live pangolin export permits issued during the period 2011 through 2013. No additional live pangolin export permits were reported by Togo at the time of writing. All of the permits specified that pangolins would be collected from the wild (source code "W") and used for commercial purposes (source code "T").
Importing countries (per export permits issued by Togo):
2011: Japan – 10 giant and 12 white-bellied;
2012: Spain – 5 giant, 5 black-bellied, 5 white-bellied;
2012: Japan – 3 giant, 3 black-bellied, 3 white-bellied;
2012: Laos – 50 giant, 250 white-bellied;
2012: Vietnam – 200 white-bellied;
2013: Spain – 5 black-bellied, 5 white-bellied;
2013: Japan – 10 white-bellied;
2013: Netherlands – 4 white-bellied;
2013: United States – 8 white-bellied.
While massive quantities of pangolins (legal, illegal, intended or otherwise) traded by the usual suspects – Laos and Vietnam – is disturbing, it is not really a surprise.
However, the import of these enigmatic mammals by the United States – a major market for exotic pets – is under scrutiny.
In fact, more recent data provided by USFWS revealed that between January 2013 and April 2016, a total of 36 live white-bellied pangolins were imported into the United States from Togo. Of these, 22 were imported for "commercial" purposes (source code "T") and 14 were imported by, or on behalf of, zoos (source code "Z"). The two "zoo" shipments of eight and six pangolins were cleared in Los Angeles in April 2016.
The good news is that Togo is ready to put an end to the plundering of its pangolins: the country is listed as one of the proponents of the proposal to transfer the four African pangolin species to CITES Appendix I, which would halt the commercial trade currently allowed by Appendix II. Parties to CITES will vote on these proposals at COP17 in South Africa, which takes place from September 24 to October 5, 2016.
---
Help fight against wildlife trafficking: Support our work to advocate for the protection of endangered species at the upcoming CITES CoP17 in South Africa.
Comments
comments