High-profile protest march to take place in central London on Saturday 30th April.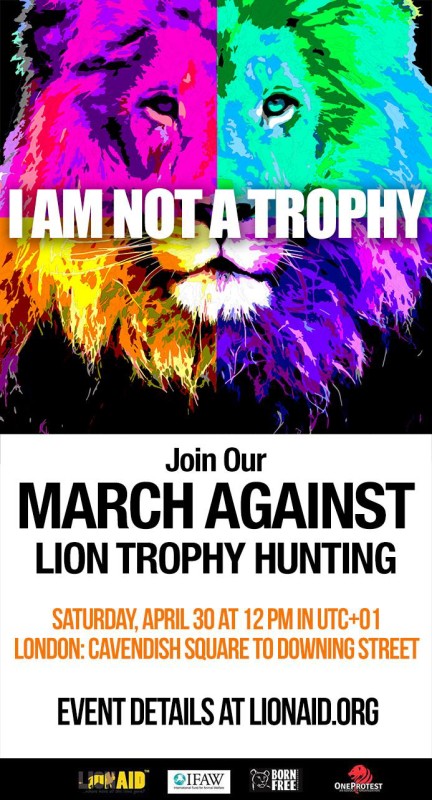 Responding to the global outcry over the trophy hunting of lions following the illegal killing of Cecil in Zimbabwe in July 2015, leading wildlife protection charities Lion Aid, the Born Free Foundation, IFAW, Four Paws, Save Me and One Protest, will come together in London on Saturday 30th April to call for an end to lion trophy hunting in Africa and the import of lion trophies into the UK and European Union.
The protest will see hundreds of people march from Cavendish Square to Downing Street to hear speeches from leading wildlife campaigners, politicians and actors, including Born Free Foundation Co-Founder, Virginia McKenna OBE. The march will end with a delegation going into Downing Street to deliver a letter to the Prime Minister. The letter is supported by leading conservationists and public figures and calls for an immediate halt to all African lion trophy imports to the UK.
Virginia McKenna OBE, who will be the opening speaker at the protest march outside Downing Street, said:
"The world has at last woken up to the tragedy facing Africa's elephants and rhinos, but has been far too slow to realise the desperate plight of Africa's lions. In my lifetime, the number of African lions has fallen from more than half a million to less than 20,000, and yet this iconic species continues to be hunted for trophies to put on walls or floors."
"Fifty years on from the release of the film Born Free – which did so much to inspire people around the world to celebrate the beauty and wonder of lions – time is running out for the species and they could become extinct in many parts of Africa within decades. If we are to protect their future, there can be no justification for the continued hunting of wild lions," she added.
Dr Pieter Kat, Co-Founder of Lion Aid, who will also be speaking at the march, explained, "There is little doubt that commercial trophy hunting started right here in Great Britain. Lured by the then massive game populations in eastern Africa, aristocrats and the rich travelled to places like Kenya to engage in what they called sportsmanship. Almost all the 'big white hunters' of the day were British – people like Frederic Selous, R.J Cunninghame, 'Karamoja' Bell and Denys Finch Hatton. American President Teddy Roosevelt travelled across eastern Africa on a 'magnificent' hunting trip, and many followed in his footsteps. Kenya banned trophy hunting in 1977, but the practice spread."
"Trophy hunting is as morally, ethically and economically corrupt as the drug trade and people smuggling. It has no conservation benefit whatsoever, and a recent poll here in Britain showed 93 percent of the public opposed it. Trophy hunting started here and must now end here. High time that Britain joined countries like Australia and France to ban imports, and supported African nations like Kenya and Botswana which have banned the practice. Wildlife conservation needs to reject trophy hunting as a failed practice that belongs in the 1900s."
In 1980, more than 75,000 wild lions roamed the African continent, today it is estimated that less than 20,000 survive across just eight percent of their historic range. The African lion faces a battle to survive on many fronts as a result of habitat loss, loss of natural prey largely due to poaching, and increased conflict with people and their livestock. In recent years, lions are believed to have disappeared completely from as many 16 African countries.
Despite this ecological tragedy, hundreds of wild lions continue to be killed by trophy hunters in Africa every year, with many of the heads and skins from these animals being imported to EU counties, including the UK.
You can register to join the March here
---
Comments
comments