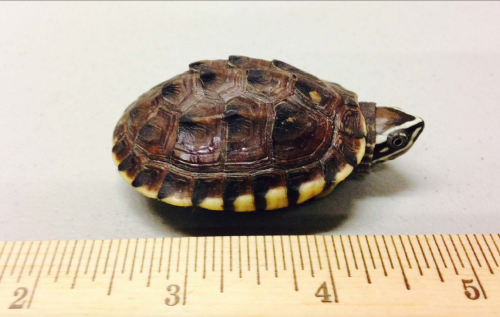 A wildlife trafficking scheme in which a Canadian resident used shipping facilities in the United States to smuggle thousands of baby turtles to China has been shut down, thanks to investigations carried out by U.S. and Canadian authorities.
Turtle trafficker Kai Xu, 27, of Windsor, Ontario was sentenced to nearly five years in prison on April 13, 2016, before United States District Judge John Corbett O'Meara in Ann Arbor. As part of his sentence, Judge O'Meara ordered Xu to pay over $17,000 in restitution for the care of the confiscated turtles. Xu pleaded guilty to six counts of smuggling turtles out of the United States.
Although mainstream media reports seem predictably fixated on a single incident which occurred on August 5, 2014, in which Xu was arrested in Canada with 51 live turtles taped inside his pants, a closer look into this case reveals that Xu was a full time reptile smuggler who recruited a crew of associates in order to facilitate his illegal activities.
It is worth noting that despite the aforementioned arrest, Xu smuggled turtles again from the U.S. to Canada on August 8, and continued to do so on at least seven different occasions until his arrest in the United States on September 24, 2014. In fact, investigators found that he crossed the border at least 20 times in 2014 "solely for the purpose of committing crimes". And contrary to some media reports, Xu was not a university student when he was arrested. Xu had not attended classes since 2013.
All but two of the eleven turtle species targeted by Xu's smuggling operation are protected by CITES and four of the species are listed as Endangered on the IUCN Red List:
Blanding's turtle (Emydoidea blandingii): Endangered; CITES Appendix II
Spotted turtle (Clemmys guttata): Endangered; CITES Appendix II
North American wood turtle (Glyptemys insculpta): Endangered; CITES Appendix II
Eastern box turtle (Terrapene carolina carolina): Vulnerable; CITES Appendix II
Kwangtung river turtle (Mauremys nigricans): Endangered; CITES Appendix II
Malayan snail-eating turtle (Malayemys macrocephela): Vulnerable; CITES Appendix II
Diamondback terrapin (Malaclemys terrapin): Near Threatened; CITES Appendix II
Black pond spotted turtle (Geoclemys hamiltonii): Vulnerable; CITES Appendix I
Yellow-blotched map turtle (Graptemys flavimaculata): Vulnerable; CITES Appendix III (USA)
Loggerhead musk turtle (Sternotherus minor): Least Concern; not protected under CITES
Red-eared slider (Trachemys scripta): Least Concern; not protected under CITES
According to court testimony at Xu's detention hearing, Xu had been under investigation in Canada for at least one year by the time he was arrested by U.S. authorities. He "had over 20 aliases" which he used for contacting turtle breeders and purchasing turtles. Canada's wildlife law enforcement agency had previously apprehended three reptile smugglers who apparently worked for Xu, identified as Xin Hong Tong, Chaoyi Le, and Dong Yan. Le was arrested multiple times for smuggling and failed to appear at his hearing in Canada.
Xu used various UPS and Fed Ex locations in Michigan to receive shipments of turtles from breeders and traders (some employees referred to Xu as "the turtle man"). Xu also used UPS and Fed Ex facilities to smuggle turtles out of the country. Sometimes he would "repackage" the turtles which he received at one facility, then drive to another location and ship the turtles to China, falsely declaring the contents as something other than turtles. Other times, he smuggled turtles in his car across the border to Canada.
However, on at least one occasion, a UPS employee in Clinton Township refused to ship a pair of boots (which contained turtles) for Xu.
"And at that point the employee asked him how would like to ship this. And Mr. Xu requested that the package be shipped overnight. And the employee informed him that would be very expensive, over $400, and your boots are only worth less than a hundred dollars. Are you sure? And he said yes and had cash to pay. At the point the employee told him to get out of the store."
The UPS employee told the investigator that "he believed there were drugs in the package".
Although Xu was known to have made more than 20 border crossings to conduct his reptile smuggling business, some of his illegal shipments were intercepted by authorities in the U.S. and China.
April 22, 2014: Shipment of live turtles sent by Xu (under an alias) from a Fed Ex location in Port Huron, MI, intercepted by officials in China.
June 11, 2014: Dong Yan, an associate of Xu, drove across the border into the U.S. from Canada and shipped two packages – one to Florida and the other to North Carolina. The packages contained 16 turtles, an "Asian species" (based on photos, these appear to be Malayan snail-eating turtles). He also picked up "multiple packages" held (at Xu's request) for him from a Fed Ex location in Buffalo, NY. Yan drove back to Canada and was arrested with 38 turtles taped to his body.
August 5, 2014: Xu picked up a package from Detroit UPS facility, drove back to Canada and was arrested with 51 turtles taped to his legs and groin – Eastern box turtles, red-eared sliders, and diamondback terrapins.
September 4, 2014: One of two packages sent from Troy, MI, to China by Xu was intercepted in Hong Kong, declared as snow boots. Inside the boots, customs officials found more than 300 live turtles – diamondback terrapins and albino red-eared sliders.
September 16, 2014: Authorities in Anchorage, AK, intercepted a package sent by Xu from the UPS store in Farmington, MI. The package contained more than 200 live turtles – diamondback terrapins, North American wood turtles, loggerhead musk turtles, Blanding's turtles and Kwangtung river turtles.
September 24, 2014: Lihua Lin, hired by Xu, was arrested at Detroit Metropolitan Airport with nearly 1,000 turtles in his checked luggage, bound for China.
On September 23, 2014, Xu's turtle trafficking enterprise finally unraveled when he was arrested by the U.S. Fish and Wildlife Service.
While under surveillance, Xu picked up multiple packages from a Fed Ex location in Novi, Michigan, and then drove to a Clarion Hotel near Detroit Metropolitan Airport. Xu checked into two rooms, took the packages inside the hotel, and then drove to Canada. Surveillance was picked up by Canadian officers at the border. Xu "stopped at several ATMs and withdrew money", and then he picked up an individual identified as Lihua Lin. They drove back to Michigan and spent the night in the hotel.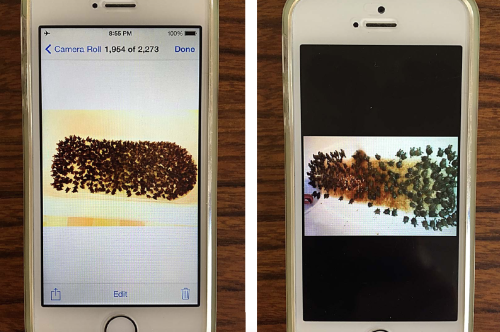 The next day, Xu drove to the airport and dropped Lin off at the international terminal. Lin was carrying two suitcases, which he checked to China. Investigators searched Lin's luggage and found nearly 1,000 turtles: 718 diamondback terrapins, as well as 56 albino red-eared sliders, 22 Blanding's turtles, 49 North American wood turtles, 110 spotted turtles, and 16 Kwangtung river turtles. All of the turtles were babies except for 35 North American wood turtles. They were packed inside snow boots and cereal boxes.
Xu hired Lin through a help wanted ad he placed on a Chinese Canadian forum "looking for people who wanted to earn $4,000 a month for four days of work".
Lin was said to be "nervous" about the trip to China, but Xu told him "not to worry about it because they only look for guns and drugs. And you're going outbound and the US does not worry about the outbound". Lin was released on bond.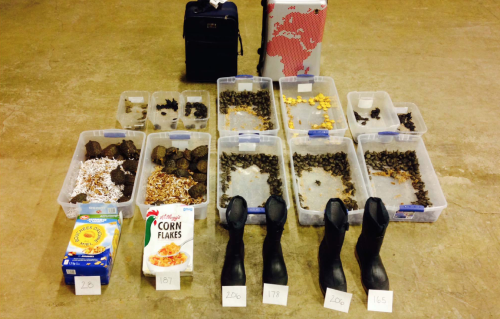 United States Attorney Sara Woodward told the court,"All of the evidence points to Mr. Xu directing other people to participate in his reptile smuggling and continuing to do it for a very, very considerable amount of time for an extreme amount of profit." She pointed out that Xu is unemployed, yet "has considerable financial resources" and was arrested with $10,000 cash.
Although Xu managed to avoid the maximum punishment, which would have been a $1.5 million fine and/or 60 years in prison ($250,000 and/or ten years for each count), this five-year prison sentence is a welcome development in the battle against global wildlife trafficking.
Thanks to the U.S. Fish and Wildlife Service and the Wildlife Enforcement Directorate within Environment and Climate Change Canada, U.S. Customs and Border Protection and Homeland Security Investigations for conducting the investigation which brought Kai Xu to justice.
---
Source: pacer.gov
Help fight against wildlife trafficking: Support our work to advocate for the protection of endangered species at the upcoming CITES CoP17 in South Africa.
Comments
comments