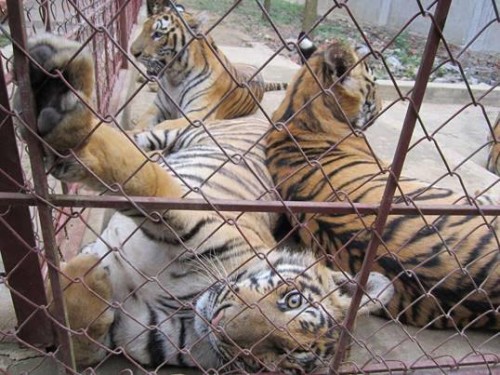 Despite two previous criminal convictions involving wildlife crime, a man known as Pham Van Tuan has reportedly applied for a CITES permit to import nine tigers into Vietnam.
This development comes after authorities in Nghe An province, which shares a border with Laos, approved the import of fifteen tigers by the Hon Nhan Ecotourism company – whose legal representative happens to be Tuan's wife, Nguyen Thi Lien.
"The fact that Nghe An authorities granted a license to someone who has criminal records and is still suspected of wildlife violations has raised serious concerns about the lax management and poor oversight of tiger farms by the authorities," says local NGO Education for Nature-Vietnam. "ENV's policy and legislation team is working hard to ensure that this application is not granted."
Although listed under CITES Appendix I, the import of tigers is allowed under Article III of the Convention, as long as the exporting and importing Parties agree that conditions outlined under Regulation of Trade in Specimens of Species Included in Appendix I are met.
Vietnam's lush jungles were once prowled by the Indochinese tiger (Panthera tigris corbetti), and today it is illegal to hunt, trap, keep, kill, transport, sell or advertise tigers or tiger products in Vietnam. However, deforestation, loss of prey, and decades of hunting for the tiger trade has reduced the country's wild tiger population to no more than 30 individuals. It seems unlikely that this species can recover on its own in Vietnam.
According to ENV, most tiger trafficking cases in Vietnam involve "farmed" / captive-bred tigers, many from prolific and unmonitored tiger farms in neighboring Laos and Thailand. Between 2006 and 2014, Education for Nature-Vietnam investigated 621 violations involving the trade, transport, possession, selling or advertising of tigers or tiger products. The cases included the confiscation of 62 dead tigers (frozen or bones), and eleven live tigers.
"Vietnam's illicit tiger trade is carried out by elaborate criminal networks that avoid detection through the use of disposable cell phones, connections across international borders, and using friends in high places to facilitate a smooth and steady flow of their product to the consumer," ENV notes on its website.
Despite the fact that a number of key figures behind the tiger trade in Vietnam have been identified, these slippery characters manage to avoid prosecution by distancing themselves from criminal activities or operating under protection of local officials. Prosecutions tend to target low-level figures involved in transport or brokering sales – and jail time for wildlife criminals remains a rarity.
---
Comments
comments