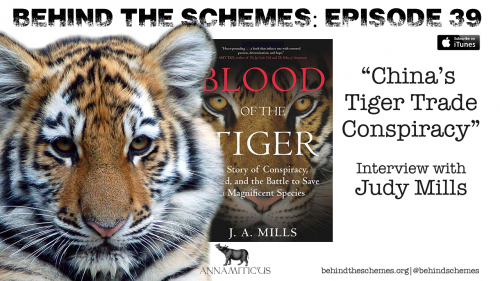 In Episode 39 of the Behind the Schemes podcast, our guest is international wildlife investigator Judy Mills and we're scrutinizing the impact of China's tiger farms on wild tigers.
Judy has unleashed a new weapon in the battle to save wild tigers: It is her brutally honest book called Blood of the Tiger: A Story of Conspiracy, Greed, and the Battle to Save a Magnificent Species.
Judy discovered China's tiger farming conspiracy while undercover to expose China's horrific bear bile extraction industry, and spent two decades working to stop China from pushing wild tigers into oblivion. She has worked at TRAFFIC, WWF, Conservation International, and Save the Tiger Fund. Judy is now a consultant to the MacArthur Foundation.
Have a listen to what Judy has to say about China's ongoing scheme to circumvent international law, profit from commercial breeding of captive tigers – and ultimately push wild tigers into extinction:
Timestamps:
[00:03: 06] Judy talks about the number of tigers in the wild vs. number of tigers in captivity in China and the United States.
[00:04:18] Judy talks about China's tiger "feed lots" and privately-owned tigers in the United States.
[00:06:43] Judy reveals which captive tiger population poses the biggest threat to wild tigers today.
[00:07:51] Judy talks about "Banking on Extinction".
[00:08:59] Judy warns of tiger farmers pressuring the Chinese government to re-open trade.
[00:09:41] Judy talks about why relatively few people are aware of China's tiger trade scheme.
[00:12:36] Judy points out why the argument to "breed tigers for trade to save tigers in the wild" is flawed.
[00:14:50] Judy talks about tackling the tiger crisis at high political levels.
[00:16:43] Judy reveals a conflict of interest issue within the CITES Working Group on Asian Big Cats.
[00:17:36] Judy warns of potential disaster at CoP17.
[00:19:07] Judy talks about China's bullying and blaming tactics regarding its tiger farms.
[00:24:07] Judy talks about a suspicious "lack of interest" in tigers at CITES meetings.
[00:25:05] Judy reveals an attempt at censorship by China at a CITES Standing Committee meeting.
[00:26:57] Judy talks about what needs to be done to stop China's tiger farms and protect wild tigers.
Learn the truth about China's tiger trade farms — and get inspired to take action:
---
Comments
comments