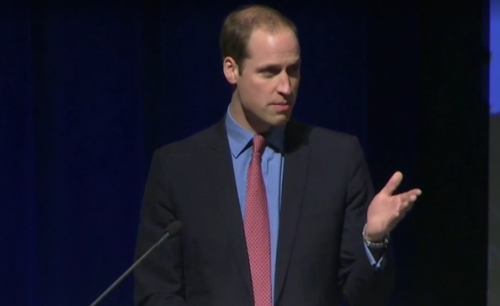 In his first-ever visit to Washington, D.C., the Duke of Cambridge spoke at the World Bank on an issue "extremely close" to his heart: the illegal wildlife trade.
Noting that tomorrow is UN Anti-Corruption Day, Prince William said wildlife trafficking is "one of the most insidious forms of corruption":
"In my view, one of the most insidious forms of corruption and criminality in the world today is the illegal wildlife trade.

Here, criminal gangs turn vast profits from the illegal killing or capture of wildlife; armed groups and terrorists swap poached ivory for guns; and middle-men oil the wheels of the trade in return for reward.

Together they loot our planet, to feed mankind's ignorant craving for exotic pets, trinkets, cures and ornaments derived from the world's vanishing and irreplaceable species."
Prince William announced the formation of an international task force under the auspices of United for Wildlife, which would examine the role of the transportation industry in the illegal wildlife trade and "identify means by which the sector can break the chain between suppliers and consumers". He further urged world leaders to work together and increase accountability for criminals, including those who turn a blind eye to wildlife crime.
"Cooperation is our greatest weapon against the poachers and traffickers who rely on evading individual national initiatives. By taking a truly international approach, we can get one step ahead of them.

Our collective goal must be to reduce the wildlife trade by making it harder: denying traffickers access to transportation, putting up barriers to their illegal activities, and holding people accountable for their actions. Those who look the other way, or spend the illicit proceeds of these crimes, must be held to account."
But the Duke of Cambridge cautioned that the battle against wildlife trafficking would be an especially difficult one, saying that, "like any organised crime, the illegal wildlife trade is a many-headed hydra".
"Tackling it will be a complex challenge."
Prince William singled out and commended Air New Zealand for "leading the way" and interrupting the supply chain by banning the transport of all shark fin, whether or not it is legally obtained. He also praised INTERPOL for issuing a list of the nine most wanted environmental criminals, and said that the task force would build upon these "positive developments".
"I am determined not to let the world´s children grow up on a planet where our most iconic and endangered species have been wiped out."
Read Prince William's entire speech at princeofwales.gov.uk
See also The Way Forward: 41 Countries Commit to Ending Wildlife Trafficking
---
Comments
comments