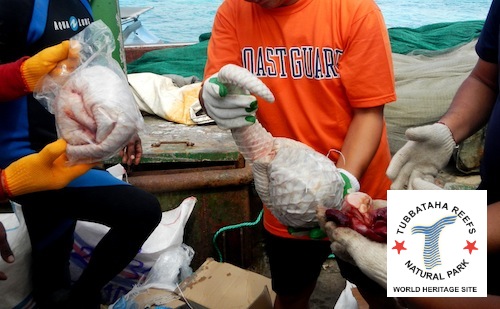 The captain and crew of a Chinese fishing vessel found to be smuggling thousands of frozen pangolins have been sentenced to jail. They were arrested in April 2013 when their boat ran aground after illegally entering Tubbataha Reefs Natural Park, a UNESCO World Heritage site in the Philippines.
According to the New Zealand Herald, the Regional Trial Court in Puerto Princesa city in Palawan province sentenced the boat captain to 12 years in prison and each crewmember to six to 10 years. In addition, each of them was fined $100,000.
"They were a fishing vessel inside a marine park, which is prima facie evidence of poaching," Park Superintendent Angelique Songco was quoted as saying. Provincial Prosecutor Allen Ross Rodriguez said that "mere possession" of an endangered species is a violation of Philippine law.
A press briefing from the Chinese Foreign Ministry shortly after last year's incident stated that "the Chinese government always attaches great importance to the security of its fishermen abroad, while educating and supervising them on their fishing activities". The twelve fishermen remain out on bail while appealing charges of poaching, attempted bribery of marine park rangers, and several violations of the Tubbataha Reefs Natural Park Act.
In the latest update of the IUCN Red List of Threatened Species™, the Philippine pangolin and Indian pangolin were moved from Near Threatened to Endangered, and the Chinese pangolin and Sunda pangolin were moved from Endangered to Critically Endangered. The four African pangolin species, previously under Least Concern, are now listed as Vulnerable.
---
Comments
comments