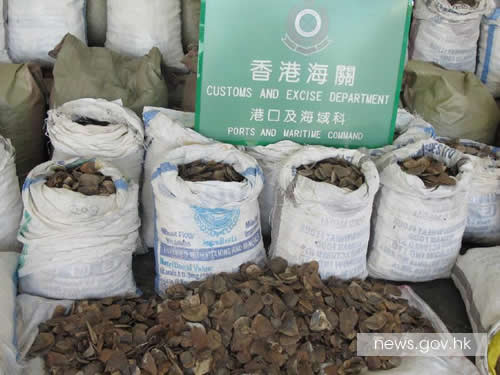 Hong Kong Customs authorities have seized just over one ton of pangolin scales from a shipping container which arrived from South Africa Kenya.
This is the second interception in Hong Kong of a shipment of pangolin scales from the African continent in just eight months, following the seizure of 320 kilograms of pangolin scales in October 2013. In this case, 40 bags totaling 1,000 kilograms of pangolin scales were detected in a container (declared as "plastic pet") at the Kwai Chung cargo examination compound. While the scales are presumably those of African pangolins, the precise species is not known at this time.
In 2013, an estimated 8,125 pangolins were confiscated in 49 instances of illegal trade across 13 countries.
The Hong Kong Customs and Excise Department notes the following:
Under the Import and Export Ordinance, any person found guilty of importing unmanifested cargoes is liable to a maximum fine of $2 million and imprisonment for seven years.
Under the Protection of Endangered Species of Animals and Plants Ordinance, any person found guilty of illegally importing a specimen of a scheduled species of Appendix II without a licence is liable to a maximum fine of $50,000 and imprisonment for six months."
Suspected smuggling activities can be reported to Hong Kong Customs through the 24-hour hotline 2545 6182.
---
Source: gov.hk
Comments
comments