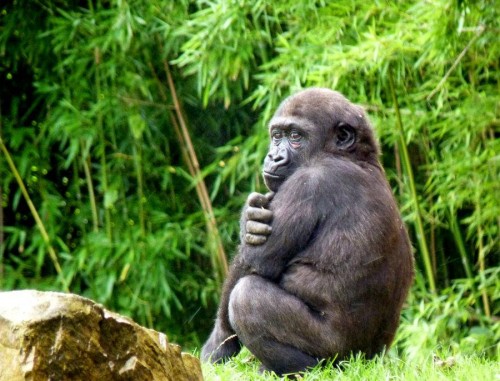 British petroleum conglomerate SOCO International PLC began seismic tests in Lake Edward, Virunga National Park in the Democratic Republic of Congo (DRC) on April 26. These tests – conducted under a permit issued by the Congolese government – are exploring the possibility of extracting oil concessions that cover a total of 85 percent of the Unesco National Heritage site.
The ecologically diverse park is home to rhinos, elephants, hippos and a quarter of the world's 800-or-so remaining mountain gorillas, and oil extraction in the fragile ecosystem would lead to water source contamination, air pollution and habitat loss.
On April 15, just before the tests began – which are in direct violation of UN conventions on heritage site conservation – Virunga Chief Warden Emmanuel de Merode was shot three times while driving a park vehicle. He survived the attack and returned to duty at the park May 24, and an investigation into the shooting is underway. De Merode opposes oil extraction, and has publicly applauded the Virunga Alliance, an integrated, eco-conscious development plan to allow the impoverished populations around the park to benefit from its rich natural resources. The program includes renewable energy stations, ecotourism and sustainable fishery initiatives.
The WWF, meanwhile, has reported that two of its DRC employees have received intimidating phone calls from unidentified sources saying, among other things, that although they had missed killing de Merode, they would be sure not to miss a WWF employee.
The organization also strongly disagrees with oil extraction in Africa's oldest national park, and any activities or tests related to this end.
"Virunga National Park is one of the last places on Earth you should go looking for oil," said René Ngongo, mining and extractives policy advisor at WWF DRC.
"The park is of global conservation importance and is vital for the livelihoods of many people living around it. We are urging alternative development models that are sustainable for the long term – development that provides real benefits to local communities and does not put endangered species at risk," she added.
Despite violence clearly associated with the extraction-related activities, and a formal request from the UNESCO World Heritage Committee for the cancelation of oil exploration permits in the park, seismic tests continue. Reasons for this are linked to poor governance, and state corruption.
"Virunga is threatened by environmental degradation security challenges as a result of weak governance in this part of Eastern DRC… [we] urge the Government of DR Congo to fully respect the international conventions to which is it is a signatory," said DRC-based UK Foreign and Commonwealth Office secretary, Mark Power, in an official UK government statement earlier this month.
Moreover, a joint World Heritage Centre and International Union for Conservation of Nature monitoring mission visited the area from March 5-14 and "was informed that elements of the military as well as armed groups are involved in most of the illegal activities" and found that at least 9 different armed groups remain active in and around the park in the politically unstable nation, and may be behind the threats and violence connected with the oil excavation plans.
The publicly traded SOCO (LON:SIA) is, however, accountable only to its shareholders, and is technically operating under a legal permit issued by the DRC. Unesco conventions for national heritage sites are not legally binding, and only have the power to remove a site from the list should it no longer comply with regulations (at the moment the park's status is listed as "in danger"). It is therefore SOCO investors and the Congolese government that hold the power to prevent ecologically damaging extraction activities in Africa's oldest and most biodiverse national park.
Virunga, which was founded in 1925, and its inhabitants already face well-documented threats of deforestation and poaching. Since 2010, a total of 10 park rangers have lost their lives protecting the wildlife, and the park has seen a 4 percent encroachment by the massive influx of political refugees to the surrounding areas, who make settlements, farms and seek coal and other raw materials.
The Congolese Minister for Hydrocarbons has announced that if economically viable oil reserves are found inside the property, exploitation will go ahead. There's currently a petition against this, which already has over 700,000 names on its list. Sign to dissuade SOCO from its Virunga oil activities, and to save the park from ruin.
---
Comments
comments