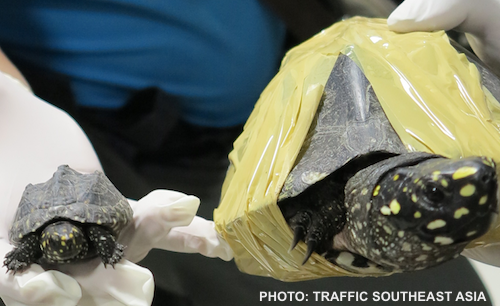 An attempt to smuggle 225 protected black pond turtles into Thailand was intercepted by customs officials who investigated four unclaimed suitcases at Suvarnabhumi Airport.
The turtles, including babies, were found stuffed inside the bags and wrapped in plastic. Although shocking, this is not an isolated occurrence. Since the beginning of 2014, more than 1,000 rare tortoises and freshwater turtles have been seized as a result of smuggling attempts in Thailand. This latest turtle smuggling incident occurred on May 4, according to the Bangkok Post.
Dr. Chris Shepherd of TRAFFIC Southeast Asia says Thailand is a hub for trafficking in tortoises and freshwater turtles, noting that the "massive scale of tortoise and freshwater turtle smuggling has dire conservation implications".
The black pond turtle (Geoclemys hamiltonii) is found only in Pakistan, northern India, Bangladesh, and Nepal. This species is listed under CITES Appendix I.
Just ten days after the Thailand incident, 158 black pond turtles were rescued in Uttar Pradesh when the smugglers were apparently involved in a highway accident. A forest official told the Times of India that it is the first large scale turtle trafficking case in the region.
---
Comments
comments