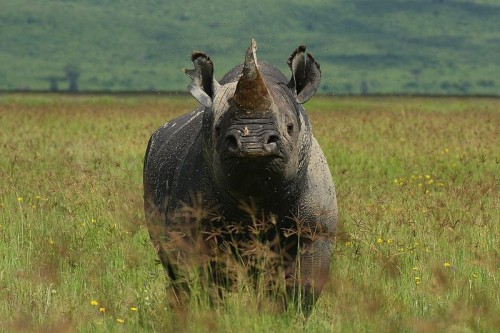 Two San Francisco Bay Area men, identified as Edward N. Levine of Mill Valley and Lumsden W. Quan of San Francisco, were formally charged with the illegal sale of two black rhino horns, as part of "Operation Crash", an ongoing multi-agency investigation into rhino horn trafficking in the United States.
Levine and Quan are charged with one count of conspiracy to violate the Lacey Act (prohibits the sale of wildlife that was transported in violation of law) and the Endangered Species Act (prohibits the interstate transportation of endangered species for a commercial purpose and the interstate sale of an endangered species). Maximum penalties are up to five years in prison and a $250,000 fine for conspiracy; five years in prison and a $250,000 fine for Lacey Act violations; and up to one year in prison and a $100,000 fine for violations of the Endangered Species Act.
The pair spent two months arranging the sale of two black rhino horns via email and telephone. Levine and Quan were ultimately arrested on March 19, 2014, when they attempted to sell two black rhino horns for $55,000 to an undercover enforcement officer in a Las Vegas, Nevada, hotel room.
The investigation is being conducted by the U.S. Fish and Wildlife Service's Office of Law Enforcement. Officers from the National Park Service, U.S. Forest Service, and Nevada Division of Wildlife assisted with the arrests on March 19. The case is being prosecuted by Trial Attorney Todd S. Mikolop of the U.S. Justice Department's Environmental Crimes Section of the Environment and Natural Resources Division and Assistant U.S. Attorney Kate Newman of the U.S. Attorney's Office for the District of Nevada.
Learn more about this investigation: Check out our articles tagged Operation Crash.
---
Source: USDOJ
Comments
comments