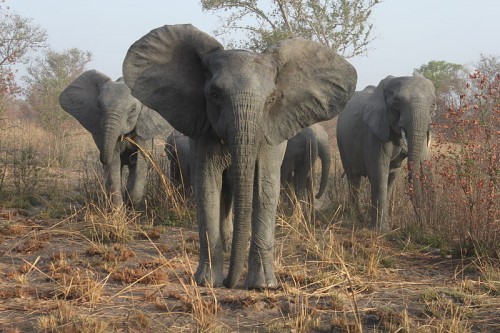 An Associated Press article published in USA Today on March 31, 2005, reported that there were doubts about whether the heir to the throne had the "media savvy" to be an effective king: "Prince Charles revealed a degree of awkwardness with the media that seemed … to capture the essence of his failure to win British hearts."
Almost nine years later, in London last week, Prince Charles welcomed delegates from forty-one countries and economic regional organizations — and anyone else who could get an invitation –to the London Conference on Illegal Wildlife Trade (February 13, 2014). The London Conference might very well signal a turning point in the battle to save the elephants and rhinos and deal a severe blow to the wildlife trade. If it does, some credit should go to Prince Charles.
One might ask, and Prince Charles alluded to this in his speech at Lancaster House, how did it fall upon him to have to facilitate the convening of such a conference. Over the past several years, the number of African elephants massacred has been rising at an alarming rate – some 60,000 were killed for their ivory in 2012-2013 alone. Many governments, organizations and individuals have been working tirelessly to try to save elephants, rhinos and other wildlife, but wildlife trafficking is a $19 billion business and organized crime syndicates are involved, and poachers are often well armed. The Presidents of several African countries, recognizing that African Elephant Crisis was getting worse and knowing they could not solve this problem alone, turned to the Prince Charles for help.
In response, the Prince of Wales asked the British Government to organize a meeting last year which led to the London Conference, with the goal of bringing to together governments, international organizations and experts to agree on decisive action to be taken to stop wildlife crime generally and the ivory trade in particular.
Prince Charles and Prince William, who by all accounts are deeply committed to stopping the ivory and rhino horn trade, used their considerable star power to focus media attention on these issues and on the conference. In a video message shown at the opening of the Symposium on Wildlife Trafficking at the Zoological Society of London, which preceded and led into the Conference, both Princes appear knowledgeable about the issues surrounding the illegal wildlife trade and deeply committed to ending it.
Further emphasizing the seriousness of the Royal Commitment to the cause, it was announced at the Symposium that Prince William had created United for Wildlife, through his Royal Foundation, to raise awareness and provide information about the planet's endangered species.
On February 11, 2014, the first day of the Symposium and only two days before the Conference, the White House announced that the United States was banning the domestic trade of ivory, all imports of African ivory and all exports of ivory; the only exceptions being antiques at least 100 years old. Hopefully China, Thailand and other countries that allow the domestic trade of any ivory will do the same.
The London Declaration (download it here) was adopted on February 13, 2014 by the 41 parties attending the Conference, including key countries China, Kenya, Malaysia, Philippines, Tanzania, Uganda and Vietnam. It recognizes the major role that demand plays in the illegal wildlife trade and calls upon countries to focus efforts to reduce that demand. It also recognizes the role of organized crime and calls for better laws and better cooperation among law enforcement agencies. The sacrifices of rangers — on the front lines protecting wildlife and who are often forgotten — are acknowledged in the document. The Declaration also endorses the destruction of ivory stockpiles and encourages the destruction of seized wildlife products.
The London Conference was encouraging. Promises were made which if kept will reduce the demand for ivory and make it much more difficult for poachers to kill elephants. There seems to be a growing consensus that destroying ivory stockpiles sends the message that ivory belongs on elephants and is not and will never be a commodity. This is a major shift in values. Tanzania, which has not hidden its wish to sell its ivory stockpile, estimated to be worth at least $50 million, will burn it all. Chad burned its stockpile as well. Only a few months ago these actions would have seemed inconceivable.
Of course, it remains to be seen if the parties to the London Declaration will follow through on their commitments. It should also be noted that a number of countries did not attend the Conference and have not agreed to anything in the Declaration. Even so, last week in London there was a sense of guarded optimism. Perhaps things could change. People were paying attention. Governments were taking unprecedented actions. This does not change the fact that elephants in Africa are being killed at nearly 100 per day. Nothing that happened in London has changed that – yet. One thing that has happened: it is clear that elephants and rhinos and those trying to help them have some dedicated and powerful allies in the Royal Family. As he demonstrated last week, the Prince of Wales knows how to work with the media when it counts.
Steven Stone is an attorney with Rubin Winston Diercks Harris & Cooke LLP Washington DC who advises foundations on elephant conservation and the ivory trade. He tweets about these and related topics on Twitter, under the username @ElephantDude.
---
Comments
comments