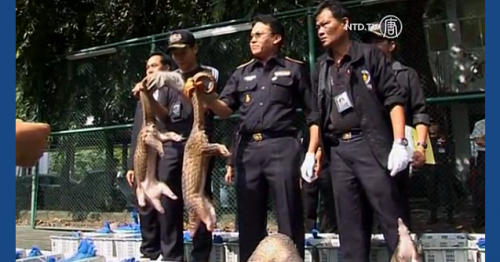 Thai customs officials intercepted the smuggling of 122 live pangolins, which were stowed away in sacks inside an SUV, and believed to be headed for China.
It is thought that the pangolins were captured in Indonesia and/or Malaysia. The incident occurred in Prachuap Khiri Khan province, southwest of Bangkok, on November 22. Two Thai nationals were arrested, according to Jewish News One. The pangolins were taken to a nearby Thai national park for rehabilitation before being released back into the wild.
Meanwhile, in Zimbabwe, three women were taken into custody for the illegal possession of a pangolin. The pangolin was turned over to Parks and Wildlife Management. Zimbabwe's Daily News Live identified the trio as Future Bapiro, of Old Highfield, Daisy Muripi Manjengwa, of Highfield and Constance Kajasi, of Budiriro 3.
The incident reportedly occurred in Borrowdale, a suburb north of Harare.
Pangolin scales are made of keratin, like hair and nails, and are consumed in traditional Chinese medicine, although the purported health benefits are unproven. Pangolins –and pangolin fetuses — are also eaten in China. An estimated 105,410 — 210,820 pangolins have been plundered from Asia and Africa since 2011.
---
Comments
comments