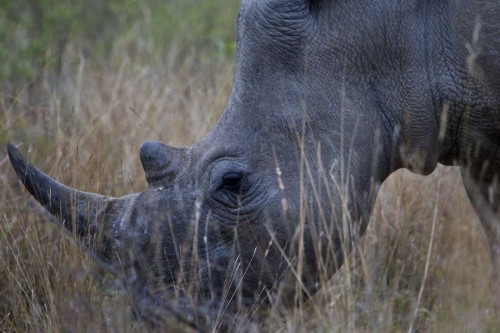 U.S. Secretary of State John Kerry announced today that a reward of up to $1 million is being offered for information leading to the dismantling of the Laos-based Xaysavang Network, headed by Vixay Keosavang.
The news comes just one day ahead of the U.S. ivory crush, in which six tons of confiscated ivory will be destroyed as part of a strategy to highlight the global wildlife trafficking crisis.
The reward is a first for the State Department, as part of the new Transnational Organized Crime Rewards Program.
"The involvement of sophisticated transnational criminal organizations in wildlife trafficking perpetuates corruption, threatens the rule of law and border security in fragile regions, and destabilizes communities that depend on wildlife for biodiversity and eco-tourism. Profits from wildlife trafficking, estimated at $8–10 billion per year, fund other illicit activities such as narcotics, arms, and human trafficking.

That is why the Department of State is offering a reward of up to $1 million for information leading to the dismantling of the Xaysavang Network.

Based in Laos—with affiliates in South Africa, Mozambique, Thailand, Malaysia, Vietnam, and China—the Xaysavang Network facilitates the killing of endangered elephants, rhinos, and other species for products such as ivory."
Anyone with information on the members or illegal activities of the Xaysavang Network are encouraged to contact the rewards hotline in Laos at +856 21 219565 and/or by email at TOCRP-Xaysavang@state.gov. All communications are strictly confidential. Rewards and amounts will be considered on a case-by-case basis.
Vixay Keosavang told NYTimes.com that he is being framed. "If you want to know the truth, you should ask Lao officials." Vixay is believed to be protected in Laos because of his political connections.
An INTERPOL Red Notice has been issued for one of Vixay Keosavang's associates, Punpitak Peter Chunchom.
Chunchom, along with Chumlong Lemtongthai, was arrested in 2011 for using loopholes in South Africa's hunting laws to camouflage their illegal rhino horn dealing operation. A third Thai national, Tool Sriton, was arrested in 2012.
Besides the trio of Thai nationals, South African game farmer and lion breeder Marnus Steyl and professional hunter Harry Claassens were arrested for their involvement in facilitating the bogus rhino hunts, dubbed "pseudo-hunts".
Lemtongthai is currently serving a 30-year prison sentence (reduced from 40 years) in South Africa and Chunchom has fled South Africa. However, Steyl and Claasens continue to evade punishment — despite seemingly overwhelming evidence revealed by Julian Rademeyer in his book Killing for Profit.
---
Comments
comments