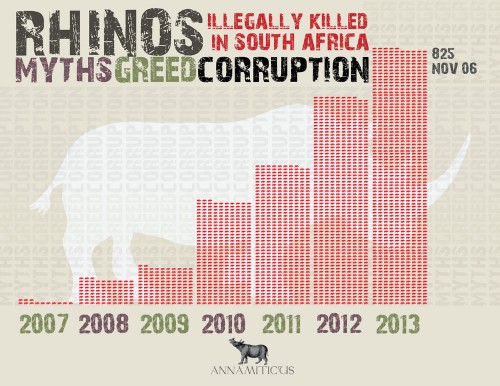 The number of rhinos illegally killed in South Africa in 2013 has reached an appalling 825 as of November 6 — surpassing the 2012 death toll of 668 rhinos.
Of the 825 rhinos, 500 were gunned down in South Africa's famous Kruger National Park. The number of arrests for rhino crimes in South Africa currently stands at 272. However, it must be noted yet again that convictions resulting in jail time are nearly nonexistent (except for Mozambican shooters and Vietnamese couriers), and game industry insiders (such as Marnus Steyl, Dawie Groenewald and several professional hunters) continue to evade the law.
Meanwhile, South Africa's pro-trade lobby insists that legalizing trade in rhino horn will solve the country's crisis, although the pro-trade plan does not hold up to even the most basic scrutiny and stands to enrich only a few game farmers who are already considered wealthy by most standards.
From January 1 to March 13, 2013, an average of 15.36 rhinos were killed each week in South Africa. Research conducted by the Environmental Investigation Agency revealed that the rate at which rhinos are being killed in South Africa increased following Minister Molewa's announcement on March 14 that the government is in favor of a legal international trade in rhino horn.
Criminal networks quickly responded to the Minister's announcement by stepping up the "extinction strategy", and between March 14 and September 19, the weekly average of rhinos killed jumped to 18.6.
Sadly, the weekly statistics continue to climb, with 100 rhinos reportedly killed during the first four weeks of October 2013.
---
Comments
comments