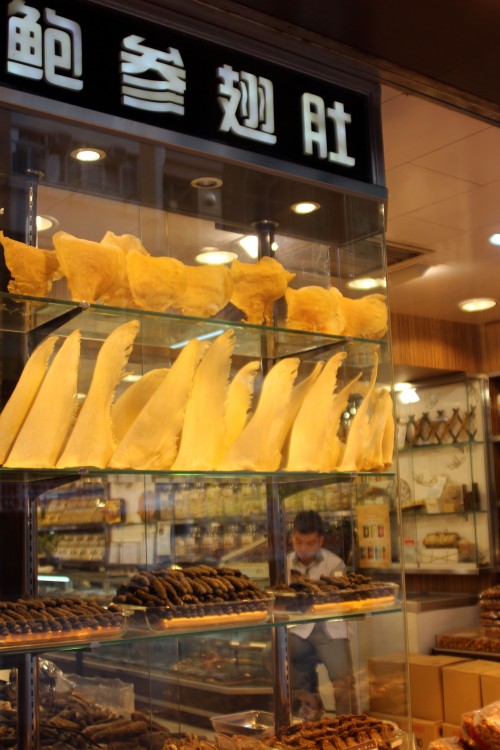 Shark fin, bluefin tuna and black moss has officially been taken off the menu at Hong Kong government official functions.
This step was taken in order to "set a good example" by going "beyond the minimum expectation as laid down in the Convention on International Trade in Endangered Species of Wild Fauna and Flora (CITES)," a government spokesperson says.
Under CITES, four shark species are protected from the sale and possession of parts – leaving the other 300 or so open for economic exploit. The port city of Hong Kong is an epicenter for the world's shark findustry, where it arrives and is distributed onwards to China: the market source for the valuable parts.
Shark fin soup has long been considered a delicacy consumed by elite members of Chinese society. The country's astronomical economic development over the past 20 years has seen an increase in general wealth among its population, and a subsequent rise in fin demand. As more people can afford to demonstrate status by serving the soup at banquets, weddings and other significant events, the inhumane practice of "finning" in global oceans has reached unsustainable levels – with 30 per cent of shark species now estimated to be under threat of extinction.
But the recent move by Hong Kong's government demonstrates hope, says Ran Elfassy, director of Hong Kong-based organization Shark Rescue.
"This is a step of mostly symbolic importance. Maybe the government parties were many and the volume was large, but on the other hand, it sent the message to the population that shark fin was no longer appropriate."
Moreover, it encourages others to follow suit. The Chinese Communist Party committed to do the same about a year ago, but have yet to implement the policy officially.
"The Hong Kong government has acknowledged there is a serious issue for shark conservation… So the next logical step is a total ban," Ran says. This is the ultimate goal that the organization has been lobbying for, and would be the culmination of a number of recent victories in the fight to end finning.
Earlier this year Hong Kong-based airline Cathay Pacific issued a statement that it would ban the carrying of "unsustainably sourced" shark fin products from all their flights. And since then Lan Chile/LATAM Airlines Group, Eva Air, Aeroméxico, Emirates, Korean Airlines, Asiana Airlines, Qantas and Air New Zealand have gone a step further and implemented a full blanket ban on carrying the controversial cargo.
This follows moves by prestigious Asian hotel groups The Peninsula and Shangri-La Hotels taking shark fin off the menu at all of their properties last year.
The developments represent a general shift in attitude, says Ran: "These are significant [victories], because it reinforces the message for conservation. Tomorrow can be better than today – better a little success now than no success ever."
Sign the petition for an outright ban on the sale and possession of shark fins in Hong Kong here and support Ran's fund raising race here. For more information, visit the sharkrescue website.
---
Comments
comments