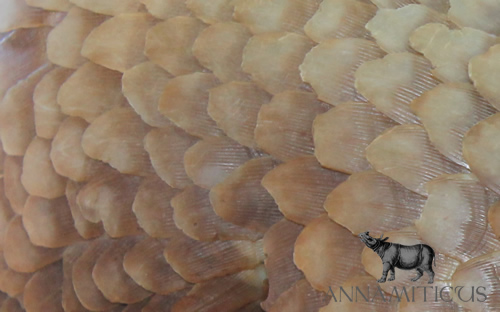 In a span of less than five days, two pangolin trafficking incidents were reported in two countries: On September 1, 2013, police in Khon Kaen seized 102 pangolins from a pickup truck owned by Pornchai Sangsila, a native of Samut Songkhram. This follows the August 30 arrest of a suspect in Mizoram identified as CK Thanga with an undisclosed amount of pangolin scales.
Mr. Pornchai — who apparently escaped — is believed to be part of an international wildlife trafficking ring. The live pangolins were discovered during a routine police inspection at PTT petrol station on the inbound lane of Mittraparb Road. A "strong stench" was apparently coming from the pickup truck, which "looked suspicious as it was abandoned in a dark area on the station grounds", according to The Bangkok Post.
Thailand-based FREELAND Foundation explains that live wildlife is typically sent to rescue centers operated around the country by the Department of National Parks. Since these pangolins may not be native to Thailand, releasing them is not an option in this case.
"It is good that the shipment is stopped and officers saved them from someone's pots. However, the survival rate of pangolins are very low in captivity. That's why we have to work hard on demand side because if there is no demand of wildlife from the consumers, these poor creatures won't be poached in the first place."
In the Mizoram case, Indileak.com reports that the suspect confessed the pangolin scales were obtained in Shillong.
"CK Thanga, a resident of Aizawl, was arrested on Thursday when he was handing [the pangolin scales] over to another person at Vairengte village in northern Mizoram, along the Mizoram-Assam border."
A customs official said that the scales were headed to either China, Taiwan, Hong Kong or South Korea via Myanmar, which shares a border with Mizoram.
An estimated 91,390 — 182,780 pangolins were victims of the illegal wildlife trade between 2011 and August, 1, 2013.
---
Comments
comments