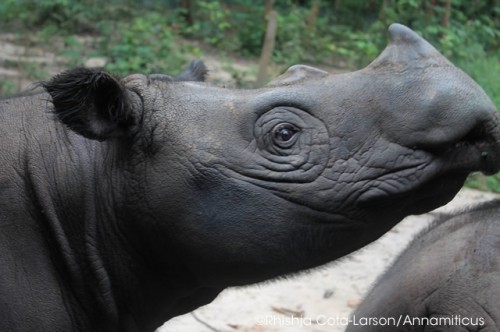 International support for the Sumatran rhino crisis has received a much-needed boost from Sabah: The State Wildlife Department has been given the official nod to "exhaust all options available" in order to increase the dwindling population of this critically endangered species.
One of the options is to capture a female Sumatran rhino, in hopes that she will breed with Tam, the resident male at the Borneo Rhino Sanctuary inside Tabin Wildlife Reserve. Another is to provide some of Tam's sperm to the Sumatran Rhino Sanctuary in Indonesia and/or the Cincinnati Zoo. The possibility of loaning Tam to the Cincinnati Zoo to pair with Suci is also being considered.
At Tuesday's press conference, State Culture, Tourism and Environment Minister Datuk Masidi Manjun emphasized the need for international cooperation.
"If we don't want export, we don't want to loan, we just leave in hope some miracles will happen whether they can multiply, of course the risk is that rhinos in Sabah may go extinct altogether even in our lifetime."
A female Sumatran rhino has been identified via camera traps in Danum Valley and plans are currently underway to bring her to Tam. It was hoped that a female rhino captured in December 2011, Puntung, would successfully breed with Tam, but unfortunately, cysts in her reproductive system may be preventing a pregnancy. Masidi told the Borneo Post that Tam and the new female will have nearly a year to produce "results", and then the other options will be explored.
"We have given ourselves until July 2014 to see some results, failing which we will consider working with the Cincinnati Zoo in United States of America for the rhino breeding purposes. We are looking at collecting Tam's sperm and sending it to the zoo to be artificially inseminated into their Sumatran Rhino with the hope that it will produce a baby rhino.

If that too fails, then we may have to send Tam on loan to Cincinnati Zoo as a mate for their sole female Sumatran rhino named Suci. Another option that we are considering is to send Tam's sperm to our Indonesian counterparts to be artificially inseminated in their female captive rhino."
However, artificial insemination is still unproven in Sumatran rhinos. Additionally, timing is an issue for Suci, who reached sexual maturity three years ago. Female Sumatran rhinos develop reproductive pathology and lose their fertility if they do not become pregnant. In order to avoid losing the species entirely, the Cincinnati Zoo is pairing Suci with her brother Harapan in hopes of producing a calf.
It was revealed in April 2013, at the Sumatran Rhino Crisis Summit held in Singapore, that fewer than 100 Sumatran rhinos are still surviving. Just a handful of these — probably no more than ten individuals — are left in Sabah.
Malaysia came under harsh criticism in June 2012 for taking on a $6.2 million "loan" of two pandas from China.
---
Comments
comments