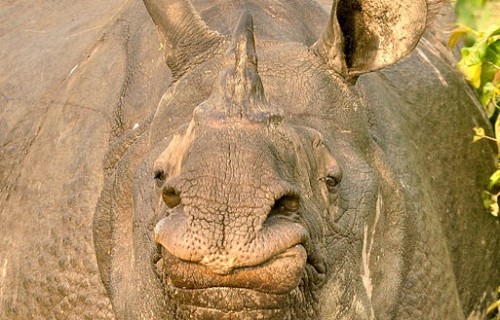 Following the recent exchange of gunfire between the Royal Bhutan Army and militants near the India-Bhutan border, there is growing concern for the safety of WWF staff — and recently translocated rhinos — in Manas National Park.
A six-year-old male rhino was found dead on August 6, with his horn, ears, nails, and tail missing. This is third Manas rhino killed in 2013, bringing the death toll to five since 2011. Tragically, these rhinos had recently arrived in Manas National Park, as part of Indian Rhino Vision 2020.
The original rhino population of Manas National Park was extirpated between 1996 and 2004 during a period of deadly civil conflict.
Meanwhile, The Telegraph reports that "deteriorating law and order in Manas National Park has forced the WWF to move out of the park until the situation improves". Dipankar Ghose of WWF-India was quoted as saying, "We had written to the Assam government on the safety concerns. We have been asked to maintain a low profile." A WWF field official added that "Manas officials have been asking us to come back. But we will have to assess the situation and make up our mind. The safety of our people is paramount."
Firing was reported from Bhuyanpara range of the park, which was preceded by firing from the Royal Bhutan Army on militants near the international border.
Security talks between WWF, police, and forest officials are ongoing.
In February 2011, six WWF volunteers (including three women) were abducted by a gang of armed rebels while conducting tiger census work in Manas National Park. The kidnapping was believed to be linked to activities of the National Democratic Front of Bodoland (NDFB), described as "a terrorist organization that aims to separate a portion of land from India with which to create a fully independent country for the Bodo people". Thankfully, the volunteers were later released after a Rs 28 lakh ($46,147) ransom was paid.
---
Comments
comments