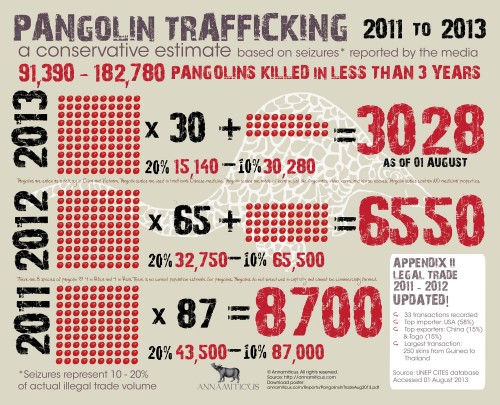 Updated figures for global pangolin trafficking suggest that between 91,390 and 182,780 pangolins were victims of the illegal trade during the period of 2011 through August 1, 2013.
Between 1,740 and 3,480 pangolins are likely to have met their demise at the hands of traffickers since our April 2013 pangolin trafficking estimate. Our figures are conservative and based on seizures reported by the media. It's important to note that most illegal wildlife trade is undetected; confiscations generally represent just 10 to 20 percent of the actual illegal trade volume. While a very few of these pangolins are released into the wild, it is unfortunately not a large enough figure to impact the overall numbers.
TRAFFIC Southeast Asia reported on July 29 that a tip-off from the public alerted Malaysian Marine Police to smugglers who were attempting to bring 15 pangolins ashore. The pangolins were still alive, but unfortunately, the suspects escaped.
On July 18, authorities in Quang Ninh province (northern Vietnam) intercepted a vehicle carrying 75 pangolins, just one day after the discovery of 62 pangolins in another vehicle. In both incidents, the drivers admitted they were taking the pangolins to China. The pangolins that were still alive were said to be "in poor health" and taken to Soc Son Wildlife Rescue Centre in Hanoi.
Meanwhile, in Guwahati (Assam, India), customs officials recovered over 85 kg of pangolin scales, along with 144.2 kg of pseudophedrine tablets, during a raid. One suspect from the state of Mizoram was arrested. The pangolin scales were destined for China, according to the Business Standard on July 18.
Just nine days earlier, police in the Thai-Malay border town of Bukit Kayu Hitam (Kedah, Malaysia) intercepted a vehicle which was carrying 26 live pangolins in the trunk. The Bangkok Post reported that a Malaysian couple was arrested and admitted they were paid to smuggle the pangolins into Thailand. No information was given regarding the fate of the pangolins.
In Sumatra, Indonesia, the Bengkulu Natural Resouce Conservation Agency (BKSDA) and the Kepahiang District Police (Polres) seized 26 pangolins and ten pythons in the Bermani Ilir sub-district on May 14th. 25 of the pangolins, along with the pythons, were later released in the Taman Wisata Alam Seblat/ Seblat Nature Recreation Park (part of the Kerinci-Seblat National Park). They were destined for Palembang, and then overseas.
Education for Nature-Vietnam reported that on May 17, 23 dead pangolins were discovered hidden in a car. The Environmental Police of Ha Long City arrested the driver and occupants. The suspects admitted that they had been hired by an illegal wildlife dealer to transport the pangolins.
On May 7, a total of five people were arrested when police intercepted a bus headed to Tatopani from Kathmandu, Nepal. Border police seized nine kilograms of pangolin scales and a sizable amount of foreign currency. Sange Tamang' Maya Sherpa' and Pemba Sherpa were each carrying three kilograms of pangolin scales attached "to their thighs and other parts of the body with duct tape".
During the last ten days of April 2013, there were four pangolin smuggling busts in four different countries.
The Philippine Coast Guard seized 23 pangolins from a cargo ship at the port of Coron on April 20. A tip-off prompted the PCG to search the M/V Maria Lydia, a Philippine vessel owned and operated by JCAP Shipping Lines and with a business address in Coron, Palawan. 22 of the pangolins were still alive at the time.
Also on April 20th, a suspect identified as "Shakeel" was arrested and 11 kg of pangolin scales were seized in Uttar Pradesh, India. The suspect is "alleged to be a member of an international gang" involved in the trafficking of endangered species.
On April 29, the Cameroon-based wildlife law enforcement NGO LAGA reported that 80 kg of pangolin scales were confiscated in Limbe. Two Cameroonians identified as Elvis Theze Njangwe and Harrison Azie, and a Chinese national identified as Wei Tao, were arrested. Tao reportedly smuggled the pangolin scales from Douala to the Limbe Port for exportation to China through Nigeria. Founder of LAGA and author of The Last Great Ape, Ofir Drori, says that "the trade in pangolin scales is booming" in the region. He informed Annamiticus that the Wei Tao had attempted to "conceal the sacks into three carry-on suitcases". 180 kg of pangolin scales had previously been seized on March 26 at Limbe Port.
Another 50 kg of pangolin scales originating from Cameroon (and apparently headed to Vietnam) were intercepted by customs authorities at the Charles de Gaulle airport in Paris on April 30.
Besides being traded illegally, presumably legal trades (dated 2011) were recorded in the CITES trade database as of August 1, 2013:
33 transactions
Top importer: USA (58%)
Top exporters: China (15%) and Togo (15%)
Largest transaction: 250 skins exported from Guinea to Thailand
Help us educate the public about pangolins by sharing this article and supporting our work with a pangolin t-shirt or by making a secure online donation.
New to pangolins? Watch and share our "Meet the Pangolin" video:
---
Comments
comments