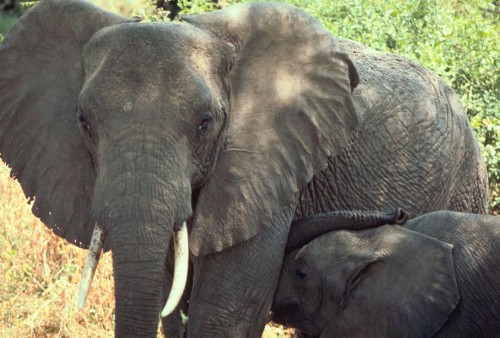 On Friday, 21 June 2013, the Philippines destroyed its $10 million stockpile of confiscated elephant tusks at a ceremonial event showing the country's commitment to ending the blood ivory trade.
The Philippines was one of eight nations identified as "primary source, transit and import countries affected by illegal trade in ivory" at CITES CoP16 in Bangkok, along with China, Kenya, Malaysia, Thailand, Uganda, Tanzania and Vietnam.
Speaking at the ceremony, Philippine Secretary of the Department of Environment and Natural Resources (DENR) Ramon Paje said, "This act is a strong statement to the rest of the world that the Philippines is serious and will not tolerate illegal wildlife trade."
The Philippines will not be a party to this massacre (of African elephants) and a conduit for the cycle of killing.
Bernama reports that the tusks were seized in 1996 – 2009, and came from Kenya, Tanzania, Zambia and Uganda.
Mary Rice, Executive Director of the Environmental Investigation Agency (EIA), attended the historical event in Manila.
This is a really significant event. It is the first time a consuming country and an Asian country has decided to dispose of its seized stockpiles.
She added that "thousands of kilograms of seized ivory were sitting in storehouses in other cities around Asia and other parts of the world".
The tusks were crushed with a backhoe and the fragments will be burned at an animal crematorium, according to the Bangkok Post.
FREELAND Foundation has posted a photo album of the event on their Facebook page.
In June 2012, Gabon burned an ivory stockpile of more than five tons.
---
Comments
comments