Wildlife Reserves Singapore and the International Union for Conservation of Nature Species Survival Commission (IUCN-SSC) Pangolin Specialist Group have organized the first ever global conference on the protection and conservation of pangolins.
The four day "Scaling up Pangolin Conservation" conference from 24 — 27 June aims to devise an overarching conservation strategy with specific and measurable initiatives, and to provide input into formal IUCN Red List assessments to re-assess their status to further protect the species.
Professor Jonathan Baillie, Conservation Programmes Director at the Zoological Society of London and Co-Chair of the IUCN-SSC Pangolin Specialist Group hailed the conference as "a landmark event" in pangolin conservation.
We will have 50 researchers from around the world gathered to set a road map for conserving pangolins over the next decade. Especially important here is formulating ways to reduce demand for pangolins in Asia.
Pangolins — also called scaly anteaters — are one of the most trafficked mammals in Asia, and increasingly, in Africa. Tens of thousands of these shy mammals are killed each year because of the trade. Pangolin scales are used in traditional Chinese medicine, although the scales are simply made of keratin, like human fingernails. Pangolins are also eaten as a delicacy and for purported health benefits in China and Vietnam.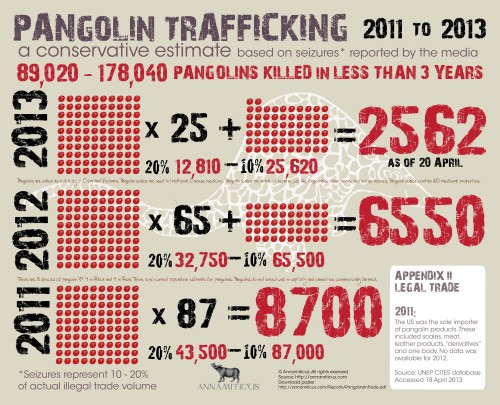 The inaugural pangolin conference is part of Wildlife Reserves Conservation Fund's (WRSCF) efforts to conserve endangered native wildlife. Since its inception in 2009, the Fund has supported various projects and conferences.
A free public seminar will be held on 28 June from 12:30 PM – 4:00 PM at the Forest Lodge in Singapore Zoo with a series of four talks by experts:
Trade in wildlife for meat and medicines pushing Southeast Asian species towards extinction by Chris Shepherd, Acting Regional Director for TRAFFIC in South-East Asia
From the IUCN SSC and new technology for addressing illegal wildlife trade by Jonathan Baillie, Conservation Programmes Director at the Zoological Society of London and Co-Chair of the IUCN-SSC Pangolin Specialist Group
The pangolin trade in Asia by Dan Challender, Co-Chair of the IUCN-SSC Pangolin Specialist Group and doctoral candidate at the University of Kent's Durrell Institute of Conservation and Ecology
Pangolins of Singapore: In situ and ex situ conservation efforts by Razak Jaffar, Assistant Curator, Night Safari, Wildlife Reserves Singapore
As there are limited seats to the public seminar available, interested participants are advised to RSVP by 21 June to Yap Xinli at xinli.yap@wrs.com.sg.
Additionally, visitors to Night Safari on 21, 22, 28 and 29 June will be able to hear more about pangolins from the keepers at a short 15-minute session starting from 9:15 PM at the Pangolin Exhibit along the Fishing Cat Trail. Over the years, Night Safari has fine-tuned captive management of these unassuming creatures and has achieved a global first: The world's first institution successfully to breed and raise the Sunda pangolin in captivity.
"Scaling Up Pangolin Conservation" has been made possible thanks to the generous support of Wildlife Reserves Singapore, Wildlife Reserves Singapore Conservation Fund, the Zoological Society of London, San Antonio Zoo, the Houston Zoo, TRAFFIC and Ocean Park Conservation Foundation, Hong Kong.
In response to the magnitude of trade and other threats including loss of habitat and ill-considered land management practices, the IUCN-SSC Pangolin Specialist Group was established in February 2012.
(Conference information provided by Paul Thomson.)
---
Comments
comments