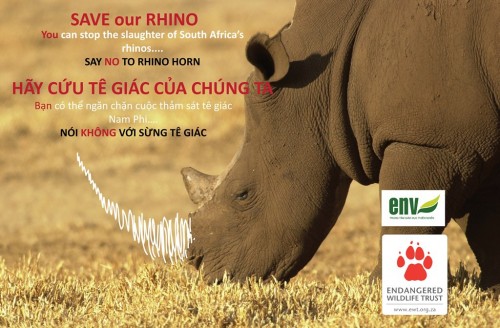 Education for Nature-Vietnam — a Vietnamese NGO — is leading the charge to stop the consumption of rhino horn with a campaign to increase negative social attitudes towards rhino horn users.
ENV has released a powerful and innovative public service announcement which calls rhino horn users "ignorant, foolish, backward, cruel, and evil". The video was launched during CITES CoP16 and ENV hopes the PSA "will help send a strong message to rhino horn consumers that this behavior is socially unacceptable, and the effects of this kind of consumption are being felt across the world".
"Tiêu thụ sừng tê giác là hành động đáng lên án!" is the first in a new series of PSAs targeting rhino horn consumers to be released this year, and is part of ENV's rapidly expanding rhino awareness campaign.
Tiêu thụ sừng tê giác là hành động đáng lên án!
In addition to the public service announcements, ENV has teamed up with Endangered Wildlife Trust in South Africa to produce bilingual posters. The posters will be distributed via websites, social media channels, forums and blogs, and displayed during ENV awareness activities, such as public exhibitions and university programs.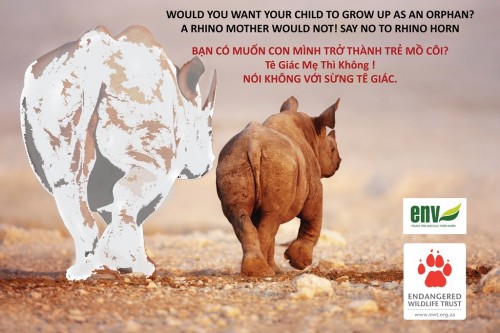 ENV explains on their website that "putting a stop to the killing of rhinos for their horns requires a two-pronged approach."
Aggressive and appropriately harsh measures need to be aimed at the criminal networks that smuggle rhino horns in from Africa and supply consumer demand in Vietnam, in conjunction with sustained campaigns targeting Vietnamese consumers to dispel both myth and rumors about the magical properties of rhino horn.
Until 2010, the only surviving wild rhinos in Indochina were found in Cat Tien National Park (southern Vietnam). Tragically, the world's last Vietnamese Javan rhino (Rhinoceros sondaicus annamiticus) rhino was found shot, with her horn removed, rendering the subspecies extinct.
Education for Nature-Vietnam is the country's first environmental NGO and was founded in 2000 by Quyen Vu. She explained in an interview with me that "a Vietnamese solution was needed for a Vietnamese problem".
Vietnam's rapid economic growth during the last 15 years has created a higher standard of living in the country. This has led to an increased demand for products made from wildlife. Tiger bone, bear bile, pangolin scales, and rhino horns are now within reach of consumers who previously would have been unable to afford such expensive items.
The rhino horn trade is unique in that the killing is occurring many thousands of kilometers away in South Africa, where Vietnamese nationals have been connected to both illegal hunting and smuggling of rhino horns destined for markets back in Vietnam.
Listen to the entire interview with Quyen Vu, founder of Education for Nature-Vietnam.
---
Comments
comments