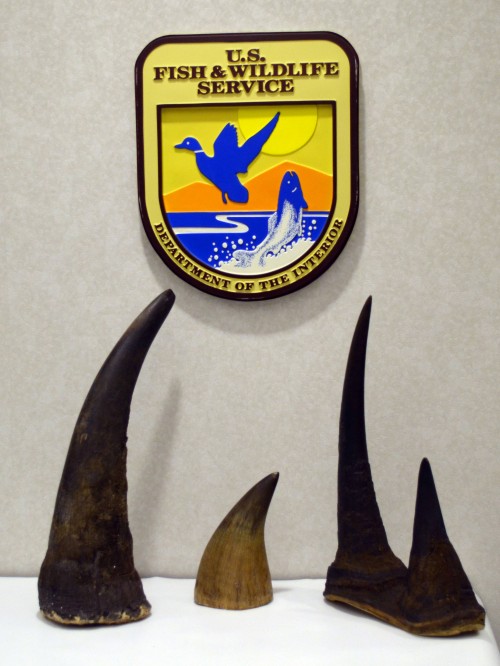 Manhattan antiques dealer David Hausman will spend six months in jail followed by one year of supervised release for his role in the trafficking of rhino horns in the United States.
Hausman was arrested along with six other suspects in February 2012 as a result of "Operation Crash", a nationwide multi-agency crackdown on rhino horn smuggling. In addition to prison time, Hausman is ordered to pay a $10,000 fine to the Lacey Act Reward Fund and $18,000 to the Rhino Tiger Conservation Fund, along with a $200 special assessment fee. He pleaded guilty in July 2012 to the crimes of obstruction of justice and creating false records in violation of the Lacey Act.
"Mr. Hausman's blatant deception of officers conducting a federal investigation was illegal and reprehensible," said Assistant Attorney General Ignacia S. Moreno. "He posed as someone who was protecting this endangered species when he was really obtaining and using inside information to further the illegal trade in black rhino horns."
The incidents leading to Hausman's arrest began in December 2010, when Hausman advised the USFWS that an illegal sale of a taxidermied black rhino trophy with two horns had been conducted by an auction house in Pennsylvania. Hausman then used a "straw buyer" to obtain the horns for himself, and told the buyer not to use email, which would create a paper trail. He instructed the straw buyer to mail the horns to him, and created a set of synthetic horns, which were attached to the trophy mount "in order to deceive law enforcement in the event that they conducted an investigation". Hausman contacted the straw buyer after his February 2012 arrest and "they agreed that the rhinoceros mount should be burned or concealed".
Nearly a year later, in September 2011, Hausman made arrangements to purchase a taxidermied black rhino trophy from an undercover federal agent posing as an online seller. Prior to finalizing the transaction on November 15th, Hausman asked the undercover agent to send an email stating that the rhino trophy mount was more than 100 years old, so that he could use an antiques loophole to cover his illegal activity, since the agent had told Hausman that the trophy mount was between 20 and 30 years old. Hausman "insisted on a cash transaction and told the undercover agent not to send additional emails so there would be no written record".
At the time of Hausman's February 2012 arrest, USFWS agents confiscated six black rhino horns and four rhino heads from his apartment, along with "numerous carved and partially carved rhinoceros horns", synthetic rhino horns and $28,000 in cash. Two of the rhino horns were the ones that Hausman was sawing off in the motel parking lot.
Including David Hausman, a total of ten suspects have been nabbed as a result of Operation Crash. The most recent arrests were made earlier this month.
See also:
---
Source: USDOJ
Comments
comments