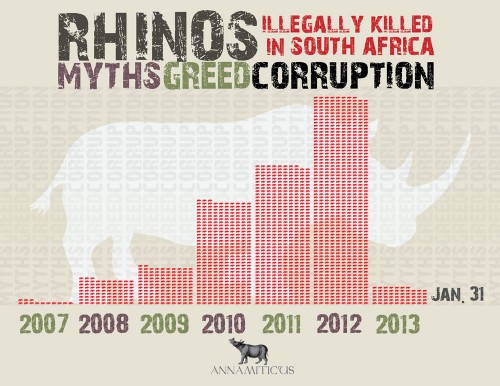 At least 57 rhinos have been massacred in South Africa during the first 31 days of 2013, according to the Department of Environmental Affairs.
Of the total, 42 were killed in Kruger National Park, mainly in the Limpopo Transfrontier Park region near Mozambique. Six rhinos were killed in KwaZulu-Natal, six in North West, two in Limpopo, and one in Mpumalanga Province.
Since January 1st, 2013, 18 suspects have been arrested for rhino crimes, and another three were fatally wounded. Seven rhino horns, heavy calibre hunting rifles, and ammunition were recovered by authorities.
The Environmental Investigation Agency points out that upholding the CITES ban on rhino horn trade allowed rhino populations to stabilize, and kept illegal killings to a minimum for over a decade "until South Africa began to push for legal trade in rhino horn".
---
Source: SAnews.gov.za
Comments
comments