Although 2012 was an undeniably difficult year for the elusive pangolin, there is indeed hope for this unique species.
Between January and July 2012, at least 43 pangolin seizures were made across eleven countries, representing approximately 2,550 pangolins (scales, flesh and whole pangolins, dead and alive). Although it was too late for most of the confiscated pangolins, some were released; little is known about survival rates.
The latter part of 2012 was just as deadly. An estimated 3,000 — 4,000 pangolins (including scales) destined for illegal markets were seized across China, India, Indonesia, Vietnam and Thailand:
Considering that wildlife seizures represent only a small percentage (as little as ten to twenty percent) of the actual illegal trade volume, the 2012 numbers suggest that 60,000 pangolins could have been lost in a single year.
But don't despair! The good news for pangolins is that 2012 was also a year of increased awareness, new initiatives, and success stories:
#1: IUCN specialist group
A new International Union for the Conservation of Nature Species Survival Commission (IUCN-SSC) specialist group was established for pangolins in February 2012. The 65-member Group — comprised of scientists, veterinarians, and conservation professionals — hopes to curb the loss and decline of wild pangolin populations by identifying and promoting strategic conservation solutions and informing effective domestic and international governmental action. Learn more at the PangolinSG.org website.
#2: Pangolin ads removed from online trading site
As a result of our January 2012 story about pangolin and other endangered species products being sold on China's top eCommerce website, Alibaba, we were contacted by a representative of the company who informed us that the pangolin pages were removed from the site. The original article with screenshots can be read at Pangolin and Other Endangered Species Products Openly for Sale on Major eCommerce Website and the update is at Pangolin Ads Removed from Chinese eCommerce Website.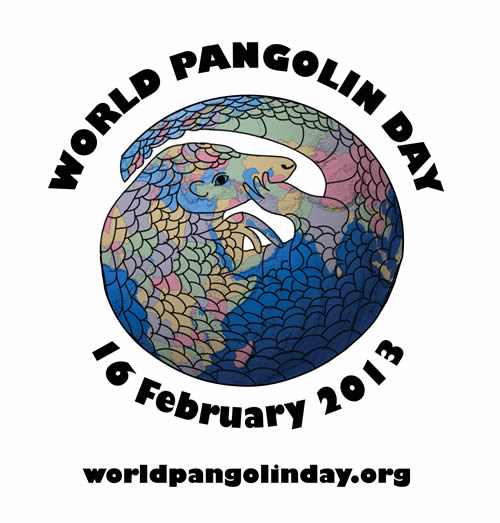 #3: World Pangolin Day
We did some online research and discovered that pangolins have a special day. World Pangolin Day is celebrated on the third Saturday in February, and February 18th, 2012, was quite possibly the first time World Pangolin Day was actually celebrated. We set up a World Pangolin Day page on Facebook, and it was wonderful to see other pangolin fans participate, including the EDGE blog. In 2013, World Pangolin Day falls on February 16th — connect with other pangolin supporters at facebook.com/WorldPangolinDay.
#4: 'Wildlife Heroes'
Among the Wildlife Heroes profiled by Julie Scardina and Jeff Flocken in their 2012 book of the same name was Nguyen Van Thai. Thai started Vietnam's first pangolin research and rescue center, the Carnivore and Pangolin Conservation Program (CPCP). Connect with the CPCP at facebook.com/carnivore.pangolin and learn more about the book at wildlifeheroes.org.
#5: Pangolins rescued in Zimbabwe
Tikki Hywood Trust in Zimbabwe dubbed 2012 "The Year of the Pangolin" and with good reason: In addition to rescuing and releasing four pangolins, there is the heartwarming story of Chaminuka (nicknamed "Champ"). This little pangolin weighed just 700 grams when he was brought to THT in January 2012. Champ reached eight kilograms by September and he continues to thrive. Here's Champ's first photo album.
#6: Cambodia rescue center opens
December 21st, 2012 was opening day for the Pangolin Rehabilitation Center (PRC) in Cambodia, thanks to a joint initiative between Conservation International (CI) and the Forestry Administration, (within the Ministry of Agriculture, Forestry and Fisheries, Royal Government of Cambodia) (FA). The PRC was opened with a Buddhist blessing and ceremony.
#7: Pangolin parts incinerated
In order to prevent re-entry into the illegal market, wildlife authorities in Indonesia incinerated 8.2 tons of dead pangolins and 141 lbs (64kg) of scales confiscated in previous seizures. Another 19.3 tons will be disposed of following the completion of legal proceedings against the traffickers.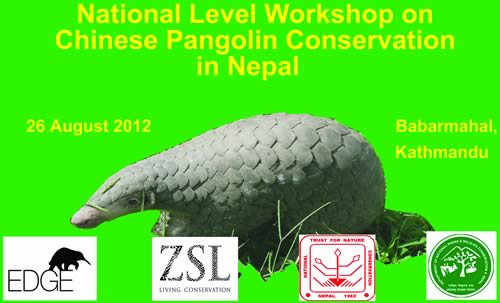 #8: Pangolin workshop
A national level workshop focusing on Chinese pangolin conservation in Nepal was held on August 26th, 2012. Forty-four participants were in attendance, including representatives from the government, conservation organizations, scientists and university students. EDGE Fellow Ambika Khatiwada, who is studying the Chinese pangolin in the Eastern Himalayas of Nepal, helped to coordinate the event.
#9: 'Attenborough's Ark'
Sir David Attenborough selected ten animals that he would include on his own "personal ark" for the BBC documentary "Attenborough's Ark". Among these animals is the Sunda pangolin (Manis javanica).
Protecting pangolins
Pangolins are quite literally being traded into extinction by wildlife traffickers. The demand comes mainly from China and Vietnam, along with myths about the purported health benefits of eating pangolin flesh, scales and even fetuses — and where the newly affluent still believe that consuming rare wildlife is an acceptable way to flaunt one's wealth.
One of the most important steps to take in protecting pangolins (or effecting change of any kind, for that matter) is to create awareness. Too many people still don't even know what a pangolin is, let alone that the species is in big trouble. You can help educate others by taking that first step: Introduce the pangolin to your own network, online and offline.
Sir David says in "Attenborough's Ark" that the pangolin is "one of the most endearing animals" he's ever met. We could not agree more.
---
Comments
comments