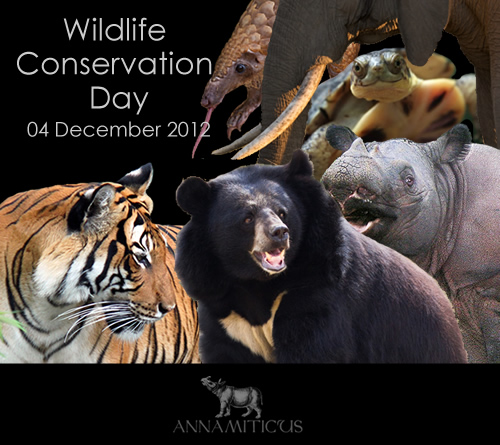 December 4th marks Wildlife Conservation Day — and the launch of a global outreach campaign in conjunction with United States Secretary of State Hillary Rodham Clinton's call for a multilateral coalition against wildlife trafficking.
Our embassies will use every tool at their disposal to raise awareness about this issue, from honoring local activists, to spreading the word on Facebook and Twitter. We want to make buying goods, products from trafficked wildlife, endangered species unacceptable, socially unacceptable. We want friends to tell friends they don't want friends who ingest, display, or otherwise use products that come from endangered species anywhere in the world. — United States Secretary of State Hillary Rodham Clinton.
In the "Wildlife Trafficking and Conservation: A Call to Action" event held at the State Department on November 8th, Secretary Clinton outlined a four-part strategy to address the global scourge of wildlife trafficking — estimated between $7 and $10 billion dollars a year.
At the diplomatic level, the State Department will work with world leaders to develop a global consensus on wildlife protection;
Beyond governments, the support of people will be enlisted with the launch of a global outreach campaign on December 4th — Wildlife Conservation Day;
Enforcement areas will be strengthened and expanded, as in the example of last year's launch of Asia's Regional Response to Endangered Species Trafficking (ARREST) program;
A global system of regional wildlife enforcement networks will be created to take advantage of those networks that are already operating. The State Department pledged $100,000 to help get the new global system up and running.
Secretary Clinton said that this global coalition against wildlife trafficking would convene meetings with traditional stakeholders, such as NGOs, and also with "non-traditional" stakeholders, including airlines and cruise line companies, to discuss new potential partnerships. She explained that wildlife trafficking "relies on porous borders, corrupt officials, and strong networks of organized crime, all of which undermine our mutual security."
Wildlife cannot be manufactured. And once it's gone, it cannot be replenished. Those who profit from it illegally are not just undermining our borders and our economies, they are truly stealing from the next generation.
The U.S. is taking an active role in cracking down on global wildlife crime. On May 24th, the global implications of illegal ivory and rhino horn trafficking were examined during the United States Senate Committee on Foreign Relations Hearing. Learn more at U.S. Senate Hearing: Elephant Killings, Ivory Trade Undermining Global Security.
---
Image © Annamiticus
Comments
comments