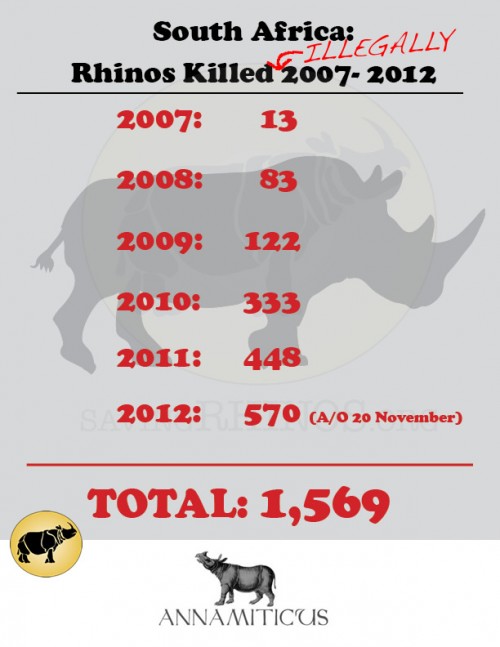 South Africa's rhinos continue to be massacred at a staggering rate, with the death toll reaching at least 570 since the start of 2012, according to the latest figures from the Department of Environmental Affairs.
While the recent sentencing of rhino horn syndicate member Chumlong Lemtongthai to 40 years in prison is most welcome, the withdrawal of charges against Lemtongthai's South African accomplice, safari operator/game farmer Marnus Steyl, smacks of corruption both within the country's wildlife industry and the provincial authorities tasked with monitoring hunting activities.
Lemtongthai, Steyl, and another South African hunter, Harry Claassens, were arrested for allegedly using loopholes in the country's hunting laws to camouflage their illegal operations. In addition, Lemtongthai and Steyl are also believed to be supplying lion bones as a substitute for tiger bones in the illegal market.
Gareth Morgan MP, DA Shadow Minister of Water & Environmental Affairs, says "it is time that officials in the North West Department of Economic Development, Environment, Conservation and Tourism are also held to account for their role in awarding permits for pseudo hunts in 2010 and 2011."
Government officials were at the start of the chain that resulted in illegally attained horns getting into the hands of Lemtongthai.
It is interesting to note that Lemtongthai's advocate, Terry Price, was on the defense team for rhino horn syndicate suspects George Fletcher, Gert Saaiman, and Frans Deventer — whose case was thrown out in 2010. Price was also said to be responsible for getting Paris Hilton's marijuana charges dropped when she was in South Africa for the World Cup.
---
Comments
comments