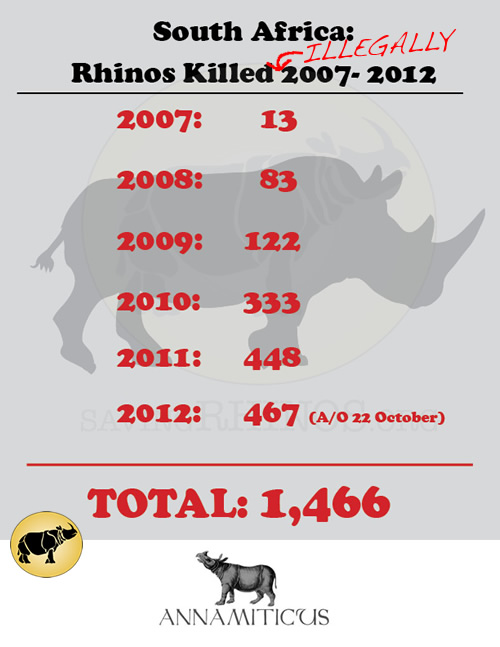 The death toll of South Africa's iconic rhinos continues to skyrocket, with a devastating total of at least 467 rhinos killed since the beginning of 2012.
According to a statement released on October 22nd by the Department of Environmental Affairs, 208 suspects have been arrested in South Africa for rhino crimes.
Gareth Morgan, Shadow Minister of Water and Environmental Affairs, is questioning the decision to withdraw "a dedicated group of police personnel" and a "dedicated helicopter used in anti-poaching operations" from Kruger National Park, where 281 of the 467 rhinos were slaughtered.
Apparently top management in the SAPS did not make an application for funds in the adjustment budget, and are now without funding for these specialised anti-poaching operations. The DA is deeply concerned by the proposed redeployment of these police personnel, and calls on the National Police Commissioner Riah Piyega and Police Minister Nathi Mthethwa to urgently intervene to stop the redeployment.
Morgan added that he would be publishing parliamentary questions to the Police Minister asking "why additional funds were not requested and what steps he is taking to ensure a continued police presence in South Africa's premier conservation area".
Meanwhile, there's apparently been another postponement in South Africa's notorious "Groenewald gang" case. Following their scheduled October 19th appearance, the alleged rhino horn syndicate reportedly has another court date in May 2013.
Dawie Groenewald and his alleged accomplices, including his wife, veterinarians Karel Toet and Manie du Plessis, professional hunter Tielman Erasmus, and others from South Africa's wildlife community, were arrested in September 2010. The gang is facing 1872 charges comprised of assault, fraud, corruption, malicious damage to property, illegal possession of firearms and ammunition, and contravention of the National Environmental Biodiversity Act. (Learn more about the case here.)
Although a mass grave of 20 dehorned rhinos was discovered on Groenewald's property shortly after his arrest, he continued to conduct rhino business. However, his rhinos were recently moved to the property of another rhino dealer "for safe keeping", according to News24.
Groenewald's rhinos are now under the care of John Hume, a rhino horn trade advocate who told Bloomberg in 2010 that he did business with Peter Thormahlen — a professional hunter arrested twice for his involvement with Vietnamese "pseudo hunts".
---
Comments
comments