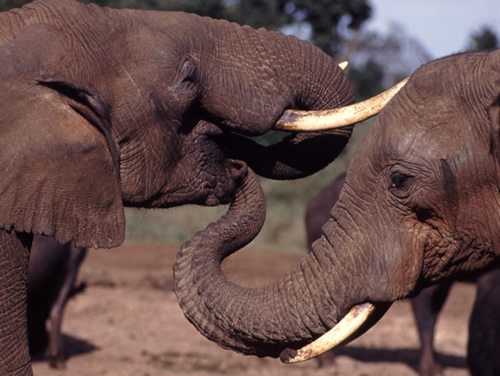 Tanzania has submitted a proposal to CITES which would downlist its elephant population from Appendix I to Appendix II and allow the sale of its ivory stockpile.
UPDATE: Tanzania Withdraws Proposal to Sell Elephant Ivory.
In its proposal to downlist elephants to Appendix II, Tanzania hopes to dump more than 100 tonnes of stockpiled ivory on the market via a one-off sale to China and Japan. Tanzania is also seeking approval for trade in elephant hunting trophies, skins, feet, ears, tails, and live elephants.
However, the proposal is extremely ill-timed, as it comes amidst the massacre of tens of thousands of African elephants for an illicit ivory trade that is linked to international organized crime, armed conflicts in Central Africa, and global terrorism.
Elephant experts, including Dr. Ian Douglas-Hamilton, point to the CITES-sanctioned one-off sale of ivory to China and Japan in 2008 as a major catalyst for the current elephant crisis.
The result appears to have been a spike in demand, fed by the growing wealth of China and its neighbors, the confusion over legal vs. illegal ivory, and the predictable willingness of ivory traders to exploit that confusion and sell illegally harvested ivory as though it were legal.
According to Dr. Douglas-Hamilton, ivory trade controls "have failed".
The preponderance of illegal ivory in China makes anything less than a moratorium a distraction and impracticable.
Mary Rice, Executive Director of the Environmental Investigation Agency (EIA), says that Tanzania's proposal is "ludicrous" and calls for Parties to reject all ivory sale proposals.
Parties to CITES need to regain control of the destructive world ivory markets and end the damage done to undermine the 1989 ivory trade ban by firmly vetoing all proposals for ivory sales. They can start by emphatically rejecting Tanzania's proposal in March, sending out an unequivocal message that all ivory is blood ivory.
In 2010, EIA conducted an extensive undercover investigation in Tanzania which revealed a "flourishing trade in illegal ivory at both domestic and international levels, exacerbated by poor enforcement and facilitated by official corruption."
Once again, Tanzania is deeply implicated – of 24 tonnes of ivory seized during 2009, almost 12 tonnes was shipped from Tanzania. This surge is characterised by a series of large-scale seizures, indicating the growing involvement of organised crime networks. Tanzania is at the heart of this trade.
Tanzania claims that proceeds from its proposed ivory sale and elephant trade would be "used exclusively for elephant conservation, community conservation and development programmes within or adjacent to the elephant range in Tanzania."
CITES CoP16 will be held in Bangkok, Thailand, from March 3rd — 14th, 2013, which will coincide with the 40th anniversary of CITES.
---
Source: CITES
Image by John Storr via Wikimedia Commons
Comments
comments