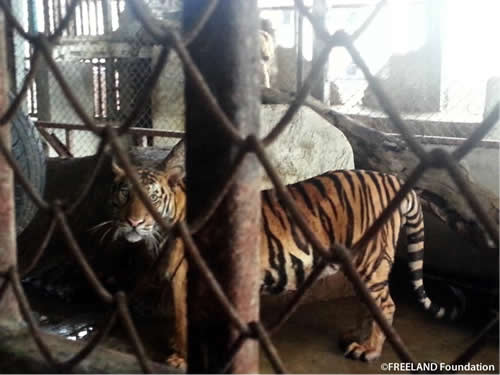 Thai authorities have nabbed a suspected wildlife trafficker following the seizure of four live tigers from appalling conditions in an apartment near Bangkok.
Two adult tigers and two cubs were rescued in Pathumthani by Thai Nature Crime Police, with essential support from FREELAND Foundation. A suspect identified as Surasak Bunthienthong has reportedly been arrested in connection with the incident; the case is believed to be linked to other wildlife traffickers operating in Thailand.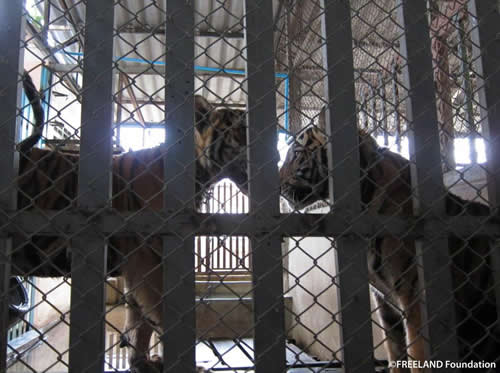 The captive tigers cannot be released into the wild and have been transferred to a government care center, where they will live out their lives under the care of veterinarians from the National Parks Department.
Thailand's captive tiger situation is similar to Vietnam and China — illegal tiger trade is conducted via loopholes in the CITES permit system.
Although 880 tigers in 21 zoos are currently registered with the country's Department of National Parks, the "actual number of tigers in private hands is believed to be much higher" and represents a significant challenge to curbing the illegal trade in tigers. One such challenge is Thailand's notorious "Tiger Temple", suspected of supplying tigers to the illegal market while operating under the guise of a tourist attraction.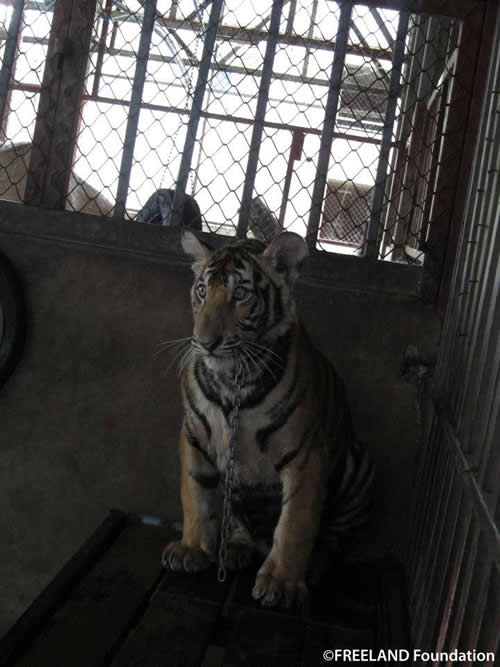 "Thai authorities are doing the right thing to check captive tiger facilities, because captive tigers are being found in the illegal trade that goes through this country," said Onkuri Majumdar, FREELAND Senior Officer.
Captive breeding of Asian big cats is expected to be on the agenda in March 2013, when CITES CoP16 is held in Bangkok, Thailand.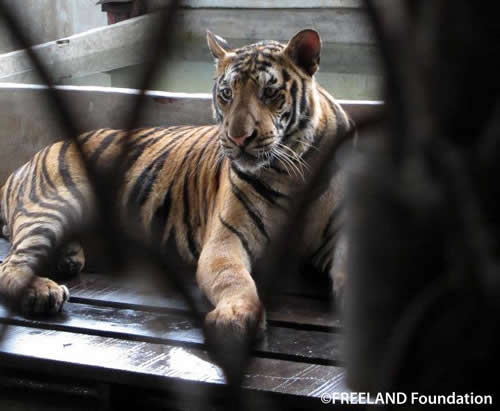 Earlier this month, the CITES Secretariat requested that "all Parties with intensive operations breeding tigers on a commercial scale" report the following by September 25th, 2012:
i) all measures taken to comply with Resolution Conf. 12.5 (Rev. CoP15), in relation to all species of Asian big cats;

ii) stockpiles of captive-bred or confiscated tiger body parts and derivatives; and

iii) any actions proposed to deal with the stockpiles.
The Parties are also requested to "fully implement Decision 14.69", which states that "measures to restrict the captive population to a level supportive only to conserving wild tigers" should be implemented and that "tigers should not be bred for trade in their parts and derivatives."
---
Source: FREELAND Foundation. Photos © and courtesy of FREELAND Foundation.
Comments
comments