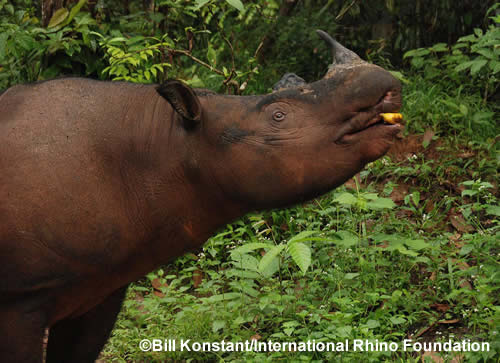 A population survey has revealed that Sumatran rhinos are still surviving in Indonesia's Leuser Ecosystem area — where they have not been seen for 26 years.
Seven individual Sumatran rhinos were identified from over 1,000 photographs taken by camera traps, according to a statement released by the Leuser International Foundation (LIF). The survey team also found footprints, feces, mud wallows, and "twisted branches left by Sumatran rhinos."
The ongoing survey of Sumatran rhino habitat and population in the Gunung Leuser National Park area is funded by the United States Fish & Wildlife Service (USFWS).
The Leuser Ecosystem constitutes the third largest tropical rainforest complex in the world, after the Amazon forest in Brazil and the Zaire forest in Africa.
Several sites are being monitored and LIF estimates that as many as 25 Sumatran rhinos could be living in the Gunung Leuser National Park area. In 1985, the Park was home to 60 – 70 Sumatran rhinos.
Unfortunately, illicit activities such as encroachment, poaching, and illegal logging were also discovered in the Sumatran rhino habitat.
Leuser International Foundation held a meeting in March 2012 — attended by representatives from USFWS, International Rhino Foundation, Yayasan Badak Indonesia, and several other organizations — to discuss the recent findings and "the conservation and protection of the remaining Sumatran rhino population in Gunung Leuser National Park area."
Fewer than 200 Sumatran rhinos are still surviving in fragmented populations in Indonesia and Malaysia. However, hope for this species was renewed in June 2012 with the historic birth of Andatu at the Sumatran Rhino Sanctuary in Indonesia. Andatu's father is Andalas, who was born at the Cincinnati Zoo and relocated to Indonesia for the breeding program.
---
Photo © & courtesy of Bill Konstant/International Rhino Foundation.
Comments
comments