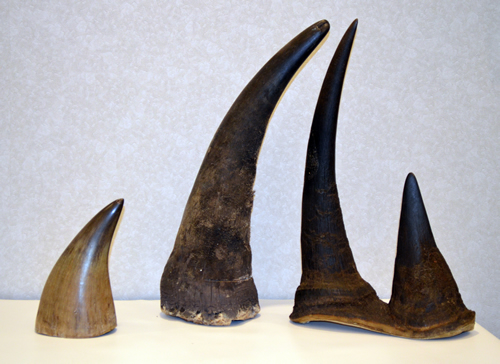 Manhattan antiques dealer David Hausman has pleaded guilty to the crimes of obstruction of justice and creating false records in relation to illegal rhino horn trafficking.
Hausman was arrested in February 2012 as part of "Operation Crash", a multi-agency crackdown on the illegal rhino horn trade in the United States. Preet Bharara, U.S. Attorney for the Southern District of New York, said that Hausman admitted in the plea agreement that he was engaging in criminal acts while pretending to assist the U.S. Fish and Wildlife Service (USFWS) as an antiques expert.
Operation Crash update 09/15/2012: Jimmy and Felix Kha enter guilty pleas.
David Hausman pretended he was helping law enforcement protect a species from being wiped out but instead he was contributing to the very problem.
Ignacia S. Moreno, Assistant Attorney General for the Environment and Natural Resources Division of the Department of Justice, explained that Hausman "misled officers in a federal government investigation, falsified records and concealed his own purchase, sale and profit from illegal trade in black rhinoceros horns".
The incidents leading to Hausman's arrest began in December 2010, when Hausman advised the USFWS that an illegal sale of a taxidermied black rhino trophy with two horns had been conducted by an auction house in Pennsylvania. Hausman then used a "straw buyer" to obtain the horns for himself, and told the buyer not to use email, which would create a paper trail. He instructed the straw buyer to mail the horns to him, and created a set of synthetic horns, which were attached to the trophy mount "in order to deceive law enforcement in the event that they conducted an investigation". Hausman contacted the straw buyer after his February 2012 arrest and "they agreed that the rhinoceros mount should be burned or concealed".
Nearly a year later, in September 2011, Hausman made arrangements to purchase a taxidermied black rhino trophy from an undercover federal agent posing as an online seller. Prior to finalizing the transaction on November 15th, Hausman asked the undercover agent to send an email stating that the rhino trophy mount was more than 100 years old, so that he could use an antiques loophole to cover his illegal activity, since the agent had told Hausman that the trophy mount was between 20 and 30 years old. Hausman "insisted on a cash transaction and told the undercover agent not to send additional emails so there would be no written record".
After buying the black rhinoceros mount at a truck stop in Princeton, Ill., agents followed Hausman and observed him sawing off the horns in a motel parking lot.
At the time of Hausman's February 2012 arrest, USFWS agents confiscated six black rhino horns and four rhino heads from his apartment, along with "numerous carved and partially carved rhinoceros horns", synthetic rhino horns and $28,000 in cash. Two of the rhino horns were the ones that Hausman was sawing off in the motel parking lot.
Hausman faces a maximum sentence of 25 years for his crimes — 20 years for obstruction of justice and five years for creating a false record in violation of the Lacey Act. With the exception of three items for which Hausman established legal purchase and antique status, the items recovered from Hausman's apartment at the time of his arrest will be forfeited or put toward the criminal fine.
David Hausman's case is being handled by the U.S. Attorney's Complex Frauds Unit and the Environmental Crimes Section of the U.S. Department of Justice's Environment and Natural Resources Division, and Hausman is scheduled to be sentenced on Dec. 5, 2012, at 2:00 PM, by U.S. District Judge J. Paul Oetken.
So far, seven suspects have been arrested in "Operation Crash", including Wade Steffen, a former rodeo star and 2010 co-champion at the All-American ProRodeo Finals in Waco, Texas.
Learn more about "Operation Crash" and what the United States is doing to protect rhinos around the world in our exclusive Behind the Schemes interview with Sal Amato, Special Agent in Charge, USFWS Northeast Region:
You can also listen to the USFWS interview as a podcast on iTunes.
---
Source: United States Department of Justice
Photo credit: Nan Rollison/USFWS
Comments
comments