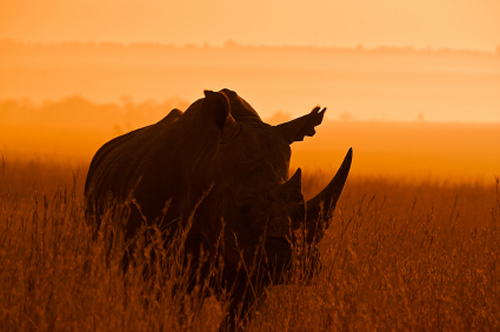 In Geneva this week, the 62nd Meeting of the Standing Committee of the Convention on International Trade in Endangered Species of Wild Fauna and Flora (CITES) is discussing a wide range of topics, including elephants, rhinos, and tigers.
The CITES Standing Committee, which oversees the implementation of rules for the international trade in protected wildlife, will decide on the agenda of next meeting of the Conference of the Parties, scheduled for March 2013 in Bangkok.
Regarding elephants, the killing of this magnificent species is at full-blown crisis level, with thousands of elephants being massacred annually, particularly in Central Africa. Ivory trafficking and seizures have, of course, skyrocketed along with the unrelenting slaughter of Earth's largest land mammal. Despite the killing of elephants and smuggling of tusks, a questionable report strongly in favor of elephant ivory trade was submitted to the Standing Committee.
Rhinos are also in crisis. South Africa lost 281 rhinos to the illegal rhino horn trade during the first 198 days of 2012, while additional rhino killings continue to be reported outside the media. Vietnam appears to be a major destination of illegal rhino horn, and its role in the trade is likely to be addressed. A comprehensive report on the traditional uses of rhino horn is under examination.
Tigers figure prominently on the agenda, with a mere 3,200 of these big cats remaining in the wild. A briefing prepared by the Environmental Investigation Agency (EIA) recommends that commercial "tiger farms" be phased out, and also that China withdraw its "scheme for trade in skins of captive bred tigers as a sign of its commitment to ending tiger trade and reducing demand".
(Note: Although the decision was made at the 2007 CITES conference to "phase out" tiger farms, the number of farmed tigers in China has grown from 4,000 at the time to 6,000 today.)
The report prepared by the Working Group on Tortoises and Freshwater Turtles (WGTFT) noted that while illegal trade in live tortoises and freshwater turtles is "acute in Asia", it is in fact "a global phenomenon impacting populations in almost all areas of the world where these species occur".
In addition to elephants, rhinos, tigers, tortoises and freshwater turtles, the issues facing great apes, Asian snakes, marine species, parrots, frogs and a myriad of plants are scheduled for discussion.
See also: Asian, African Countries Failing to Control Illegal Wildlife Trade.
---
Photo © iStockphoto.com
Source: CITES
Comments
comments