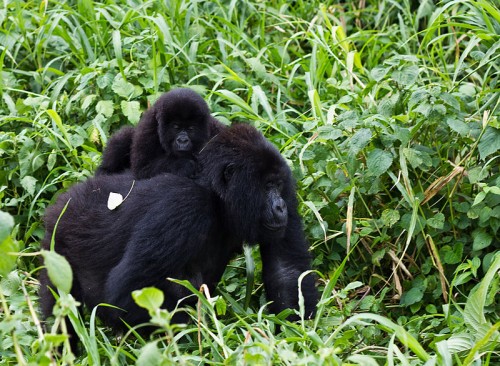 Staff and ranger families have been evacuated from Virunga National Park's headquarters, as insurgents spread into the Mountain Gorilla's last stronghold.
The Park is making a heart-wrenching plea for help, as 40 brave rangers stay behind to protect critically endangered Mountain Gorillas from the violent M23 rebels in the Democratic Republic of the Congo (DRC).
A fact sheet available at VirungaCrisis.org explains that funds are urgently needed to support the courageous heroes, who are so deeply committed to saving this species that they're willing to risk their lives to protect them.
Rangers need to continue their work of protecting the mountain gorillas, and a refugee camp must be built and maintained for their families. We need your help. Emergency funds are needed to provide proper shelter and a level of sanitation that will prevent outbreaks of cholera and other deadly diseases.
Donations can be made to support their efforts here.
With only 780 of these apes left (all of them living within the Park's borders), their existence is already on shaky ground and the relentless mutineers could very well undo decades of intense conservation efforts permanently.
It became horrifically clear that the rebels are coming after both humans and wildlife with a vengeance, after their attack at the Okapi Conservation Centre in the Ituri Forest last week left seven people and thirteen okapis brutally murdered.
Rebels Funded by Illegal Wildlife Trade
It has become increasingly evident that the rebel forces like the M23 rebels — an extension of the extremist group responsible for the 1994 genocidal massacre of 800,000 Hutus in Rwanda — are being funded by the illicit wildlife trade (especially that of ivory).
In fact, Global Financial Integrity's Tom Cardamone testified at a U.S. Senate Committee on Foreign Relations Hearing in May that the illegal wildlife trade is connected to insurgent groups and global terrorism — including some in the DRC.
Central African elephants (as well as many other wildlife species) have been under immense and increasing pressure from commercialized yet illegal hunting carried out by organized crime syndicates.
Mongabay reported in June that elephant numbers in central Africa have been halved over just the past fiver years due to the unabated plundering of the massive animals.
Help Virunga!
Please support these courageous individuals during these trying and frightening times by donating to their emergency fund.
As of last year, over 140 rangers had been killed in the line of duty at Virunga National Park since 1996, according to WWF — and many of those deaths are attributed to rebel forces.
In addition to donating, iPhone and iPad users might also consider purchasing the Park's "iGorilla" app, which features regular (and interactive) updates and on the Park's Mountain Gorilla families and the rangers' efforts to save them.
Virunga National Park receives 70% of the profit made on the app, which can be downloaded at iTunes for US $3.99.
Watch this video about the "Virunga Crisis" to learn more about the urgent situation unfolding at the Park on the DRC's eastern border.
---
Image by Cai Tjeenk Willink (Own Work) via Wikimedia Commons
Comments
comments