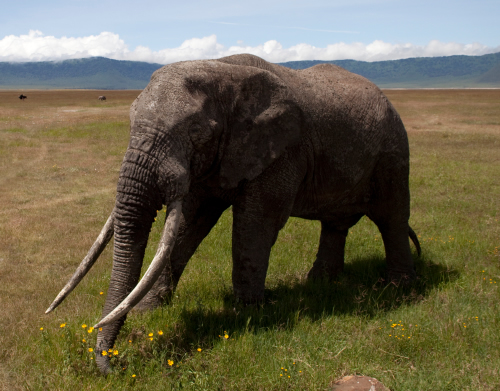 In an effort to more closely monitor illegal ivory trade, Thailand will add the African elephant as a protected species under Thai law.
This is the first time Thailand has included a non-local wildlife species as a protected animal under the 1992 Wildlife Preservation and Protection Act which "prohibits possession and trade of protected wild animals and their parts", according to the Bangkok Post.
Illegal ivory typically arrives in Thailand from African countries.
'Unregulated' ivory trade
Earlier this year, TRAFFIC's ivory and rhino horn trade expert, Dr. Tom Milliken, said in a Yale Environment 360 interview that "Thailand is running the world's largest unregulated ivory market with impunity".
Although Thailand has made a number of ivory seizures in recent years — including over one ton of ivory seized by customs officials at Suvarnabhumi International Airport in Bangkok — Dr. Milliken noted that some of it may have already re-entered the illegal market.
Thailand has seized tons of ivory in the last few years. But I have been told by government officials that at least 100 tusks that were in the possession of customs have gone missing, which probably means it was sold on to the market and back in trade.
In addition to listing the African elephant as a protected species, Thailand's Interior Ministry is reportedly working on amendments that would close the country's ivory trade loopholes by requiring that every piece of ivory be accompanied by a certificate of origin to prove it came from a captive elephant.
Baby elephant trade
Besides the ivory issue, laws designed for trade in domestic elephants in Thailand are serving as a cover for the illegal trade in wild-caught elephants.
For example, young elephants are not required to be registered until they are eight years old, under Thailand's Draught Animal Act of 1939.
This loophole has allowed traffickers to steal untold numbers of young and infant elephants from the wild — and in 2009, TRAFFIC found that "over a quarter of all elephant exports between 1980 and 2005 appeared to be illegal."
The Ministry plans to "plug loopholes" by amending the "obsolete Animals for Transportation Act" and require instead that each captive elephant be issued an elephant ID at birth.
Ivory stockpile destroyed in Gabon
Meanwhile, in Gabon, President Ali Bongo demonstrated the Central African country's commitment to "zero tolerance for wildlife crime" by igniting a five-ton ivory pyre last week.
---
Image © iStockphoto.com
Comments
comments