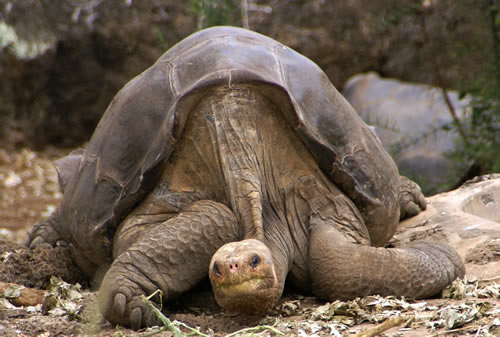 The world's only known Pinta Island tortoise, dubbed "Lonesome George", has died, leaving the subspecies Chelonoidis nigra abingdoni extinct.
Lonesome George's age was estimated to be at least 100 years old, although the subspecies can live twice that long. Officials at the Galapagos National Park in Ecuador told BBC News that the beloved tortoise was found dead in his corral by his caretaker, Fausto Llerena, who had looked after Lonesome George for the last 40 years.
Lonesome George and his female companion of another subspecies produced two clutches of eggs, but sadly, the eggs were infertile.
A necropsy will be performed to determine the cause of death, and park officials are considering embalming Lonesome George's body so that it can be displayed.
Galapagos tortoise populations were decimated by sailors and fishermen who slaughtered them for meat. In addition, tortoise habitat was eaten away when goats were introduced to the islands.
Approximately 20,000 Galapagos tortoises of other subspecies are still surviving.
---
Image: putneymark via Wikimedia Commons
Comments
comments