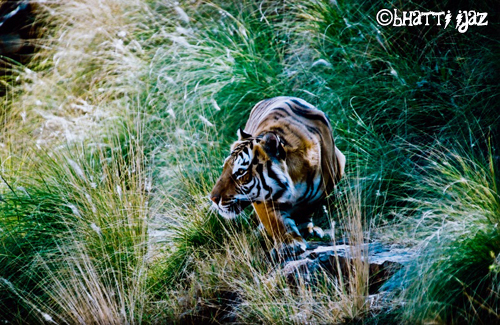 Instead of working to curb demand for tiger parts, China has continued to expand its industrial tiger farming operations.
Despite the decision made at the 2007 CITES conference at The Hague to "phase out" tiger farms, China has ignored its responsibility as a signatory to the Convention and continued to breed tigers for their skins and body parts.
In fact, according to Belinda Wright (Executive Director, Wildlife Protection Society of India) and Debbie Banks (Lead Campaigner, Environmental Investigation Agency), the number of commercially farmed tigers in China has increased from 4,000 to 6,000 since the 2007 decision.
They explained in Indian Express that "trade in farmed tiger parts is perpetuating a demand for body parts that leads to the poaching of wild tigers".
If policy is unclear in a consumer country — as it is in China, where skins of tigers of "legal origin", including farmed tigers, can be labelled, registered and sold — then demand reduction and enforcement efforts are constantly undermined.
Research conducted by EIA found that China has no clear system in place to distinguish captive-bred tiger skins from illegally sourced wild tiger skins, and that no information is available regarding how many tigers skins have been "registered and sold".
Consumers prefer 'wild' tiger products
Consumer demand — compounded by China's mixed messages of commercial tiger farming and "skin registration" scheme — places additional pressure on the world's last 3,200 wild tigers.
In a briefing prepared for the 2009 Global Tiger Workshop in Kathamandu, the wildlife trade monitoring network TRAFFIC said that consumers in China and Vietnam prefer wild tiger products over those from captive-bred tigers, and that they continue to use tiger products, knowing it is illegal.
The studies showed that consumers of tiger products are apparently "motivated by the belief that wild animals are 'unpolluted' and 'precious', as well as having nutritional and curative properties".
'Domestic policies and practices'
A WikiLeaks cable dated July 12th, 2007, and released last year, further revealed that while China touts its "tiger farms" as conservation tools, these centers actually cater to consumption by offering "tiger bone wine" and other tiger products for sale.
According to EIA, China's industrial tiger farming has placed the credibility of the Global Tiger Recovery Programme (GTRP) at risk, particularly since these centers are allowed to "maintain freezers full of tiger carcasses, instead of destroying them as urged by CITES".
Maintaining stockpiles serves no conservation purpose; it only creates confusion and speculates that one day these parts may be traded for profit. That runs completely counter to a commitment to end tiger trade and totally undermines efforts at demand reduction.

For the credibility of the GTRP, we need to see unequivocal and emphatic action to shut down all commercial tiger breeding operations and to transparently destroy the stockpiles.
It was previously noted by EIA and WPSI in an August 2011 CITES briefing that China's commitments as a Party to the Convention and under the GTRP were being undermined by its "domestic policies and practices".
And while China has indeed been praised recently for a flurry of enforcement action against wildlife crime in general, the issue of its "domestic policies and practices" regarding tiger trade remains ignored and unaddressed.
---
Photo © Bhatti Ijaz
Comments
comments