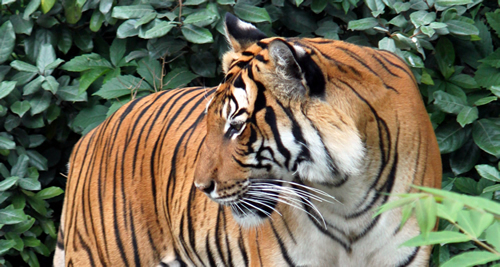 Police in Nghe An Province discovered the frozen bodies of three tigers when they searched a car driven by a smuggling suspect.
The vehicle stopped only after the officers managed to block it with their motorcycles, after firing warning shots into the air. One suspect — identified by TuoiTreNews as Nguyen Dinh Hai from Ha Tinh Province — was arrested, but his two accomplices escaped.
Hai confessed that he was hired by a man from his hometown to transport a package of wild boars to Quynh Luu District in Nghe An Province. He added he did not know the animals were tigers.
In addition to finding the frozen tigers in the trunk, police found four fake license plates and "weapons".
Photos of the gruesome discovery can be seen here.
Despite an international ban on the trade in tiger parts, loopholes in captive tiger regulations — such as tiger farms in China — have allowed the trade to thrive.
Vietnam's tiger subspecies, the Indochinese tiger (Panthera tigris corbetti) is currently listed as Endangered.
However, the IUCN Red List of Threatened Species ™ notes that "there is no evidence of breeding tigers" and "tigers have not been photographed by camera trap since 1997" in Vietnam.
[Panthera tigris corbetti] appears to be approaching the thresholds for Critically Endangered and a full assessment to see if it indeed meets these criteria will be undertaken for the next Red List update.
The world's entire wild tiger population has been reduced to a mere 3,200, primarily due to illegal trade in skins, bones, flesh, and tonics — of which China is the largest consumer.
---
Image by H. Zell, via Wikimedia Commons
Comments
comments