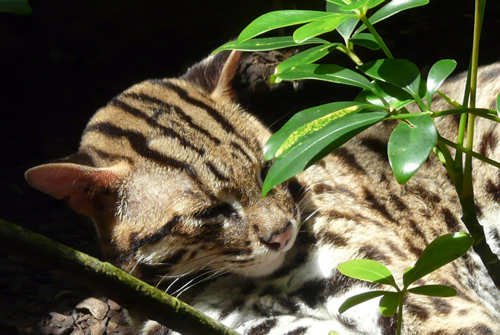 A palm oil plantation owner and a mechanic were both arrested — and then released on bail — by Malaysia's Wildlife and National Parks Department (Perhilitan), despite being exposed for illegally selling protected species for the pet trade via a website.
The mechanic was apparently managing an "exotic pets website" belonging to a plantation owner in Kampung Simpai Orang Asli settlement in Pekan, who supplied the animals. He posted photos of the animals on the website, and then arranged payments and deliveries on behalf of the supplier.
Acting on a tip-off, authorities confiscated three leopard cats, 15 blue-crowned hanging parrots, and two hill mynahs, according to the New Straits Times.
The 51-year-old supplier, who owns an oil palm plantation at the settlement, kept the endangered species in several cages near his house and initial investigations revealed that he had been actively poaching and selling them to the middleman.
State Perhilitan director Khairiah Mohd Shariff told New Straits Times that her department is working to identify other associates in nearby Orang Asli settlements, who have been "providing endangered animals to the syndicate".
However, the two suspects were released.
She said Perhilitan had recorded statements from both the suspects before releasing them on bail.
The wildlife traffickers had allegedly purchased the leopard cats for RM250 (US $79) each, and sold them on the website for RM1,500 (US $476).
Notorious wildlife smuggler released from prison
Although illegal wildlife trade is rife in Malaysia, authorities are reluctant to crack down — even in high-profile cases.
In February 2012, Malaysian authorities received well-deserved criticism from WWF-Malaysia and TRAFFIC for releasing notorious wildlife trafficker Anson Wong from prison after he served only 18 months of a five year sentence.
The verdict in the Anson Wong appeal was the culmination of chronic failures in prosecution and investigation.While Anson Wong's original conviction stands, the enhanced five year sentence was overturned. Why? Simply because those tasked with assembling a proper case failed to do so.
Wong is considered a key player in a global network of wildlife traffickers, and also had a 2001 conviction in the United States.
The illegal wildlife trade has an estimated value of between US $7 and $10 billion dollars annually, and it is linked to global terrorism.
---
Image by Chensiyuan, via Wikimedia Commons
Comments
comments