"Annamiticus" is named in memory of the Vietnamese Javan rhino, Rhinoceros sondaicus annamiticus.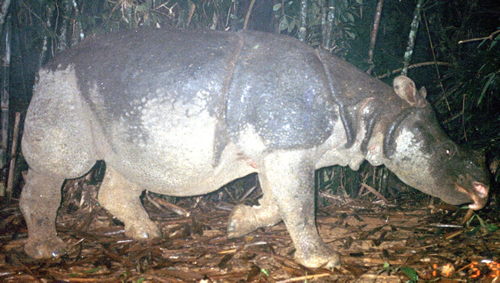 Photo: © WWF-Greater Mekong
Photo: © WWF-Greater Mekong
The extinction of the Javan rhino (Rhinoceros sondaicus annamiticus) in Vietnam is now confirmed, according to WWF and the International Rhino Foundation (IRF).
A new report released by WWF concludes that Vietnam's last rhino was a victim of the illegal rhino horn trade.
Poaching was identified as the cause of the extinction of the subspecies; the last individual was shot in the leg, which probably caused its death, and the horn had been removed.
The female rhino's body was found in Cat Tien National Park on April 29th, 2010. It is estimated that she died in late January or early February.
DNA analyses conducted at Queen's University, Canada, determined that the dung samples collected during a 2009/2010 WWF survey belonged to one rhino.
Sadly, the samples matched those taken from the dead rhino.
Lack of political will
Vietnam's tiny rhino population struggled against several formidable obstacles, including the traditional medicine trade, questionable government funding decisions, and habitat loss.
However, it seems the impact of these obstacles could have been lessened, if only the recommended conservation programs had been implemented and supported by the relevant authorities within Vietnam.
The report indicated that there was a glaring lack of political will and very little, if any, accountability for the protection of this critically endangered species.
Demand for traditional 'medicines'
WWF noted that Vietnam's "uncontrolled illegal wildlife trade" and "inadequate protection" of habitat led to the extinction of the country's rhinos.
Vietnam is facing an extinction crisis due to the largely uncontrolled illegal wildlife trade and rampant, ubiquitous poaching of wildlife. Current protected area management practices and conservation interventions have proved inadequate for dealing with this threat. The extinction of the Javan rhinoceros from Vietnam is a direct result of this inadequate protection and protected area management from all parties involved in its conservation.
The "increasing demand for wildlife in the traditional medicine trade in Vietnam, China and other parts of Asia" continues to decimate Southeast Asia's wildlife populations.
Rhino horn is still a sought-after ingredient for traditional Chinese medicine, despite the fact it has been rigorously analyzed and contains no medicinal properties. Earlier this year, the Register of Chinese Herbal Medicine and TCM educators spoke out against the continued use of rhino horn.
Indeed, it is the thriving trade in traditional "medicines" made from animal parts which is responsible for killing the world's last Rhinoceros sondaicus annamiticus.
Habitat loss
It was also revealed that the Vietnamese government focused its funding on "infrastructure development" and demonstrated "insufficient political support" for protecting its critically endangered rhino population.
There was insufficient political support to secure adequate habitat, prevent encroachment, and protect the remaining rhinoceros from hunting. Although Cat Tien National Park is a relatively well funded protected area, as is typical for National Parks in Vietnam a much greater proportion of government funding is spent on activities such as infrastructure development, than on addressing threats to the protected area.
The range of the Javan rhino in Vietnam decreased significantly from 75,000ha in 1988 to just 6,500ha by 2010. Urban development, conversion to agricultural land, park encroachment by settlers, and explosive human population growth proved to be ongoing issues that were never adequately addressed.
Additionally, there was "little or no accountability" within Vietnam's current protected area management system, which includes rangers, their managers, and protected area managers.
'Conservation failure'
Although once thought to be extinct, Vietnam's Rhinoceros sondaicus annamiticus was rediscovered in 1988.
The small population consisted of perhaps a dozen rhinos. Sufficient habitat was available and it was hoped that these rhinos would make a recovery similar to the Southern white rhino (Ceratotherium simum) and the greater one-horned rhino (Rhinoceros unicornis ) – both of which were on the brink of extinction 100 years ago.
However, by 2006, probably only three Javan rhinos remained in Vietnam. Despite years of valid recommendations from conservation groups, implementation and accountability were both lacking in Cat Tien National Park.
The extinction of the Javan rhinoceros in Vietnam is a major conservation failure.
Three subspecies of Javan rhino once existed. Rhinoceros sondaicus inermis, which formerly occurred in northeastern India, Bangladesh, and Myanmar, is already extinct.
Today, only one subspecies of Javan rhino remains: Fewer than 50 Rhinoceros sondaicus sondaicus are still surviving in Indonesia's Ujung Kulon National Park.
---
Source: Brook, S., Van Coeverden de Groot, P., Mahood, S. "Extinction of the Javan Rhinoceros (Rhinoceros sondaicus)." 2011. WWF-Vietnam.
Photos provided by & © WWF-Greater Mekong.
Comments
comments