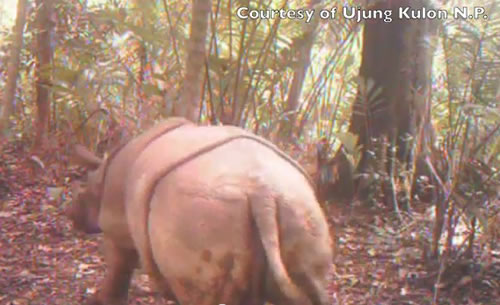 Park authorities in Indonesia's Ujung Kulon National Park have compiled an incredible video which features footage of more than 30 Javan rhinos — nearly the entire population of this critically endangered species.
Executive Director of the International Rhino Foundation, Dr. Susie Ellis, said in a Mongabay.com interview that the video is a "peek into the secret lives of Javan rhinos".
Check out the amazing camera trap footage of these beautiful rhinos:
The International Rhino Foundation and WWF are providing an additional 140 camera traps in Ujung Kulon National Park for closer monitoring of these elusive rhinos in their rainforest habitat.
Sadly, in October 2011, the Vietnamese subspecies of Javan rhino (Rhinoceros sondaicus annamiticus) was declared extinct. Read more at Gone Forever: Javan Rhino Declared Extinct in Vietnam.
---
Image via YouTube
Comments
comments